A sea of red as Berlusconi steps down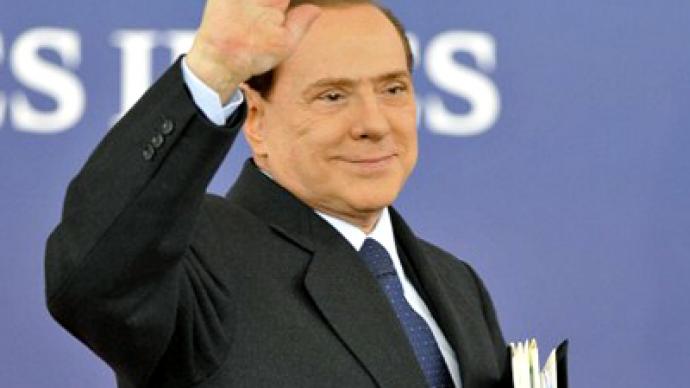 European stock markets dropped sharply after Italian Premier Silvio Berlusconi confirmed he will step down after failing to win a confidence vote.
The Italian stock market tumbled 3.7% with European stocks following the trend. UK's FTSE 100 dropped 1.2 %, while Germany's DAX was down 1.8%.
The news from Rome appears to be another blow for the ailing euro which went down against other major currencies as Italy's woes threatens the wider eurozone. According to MICEX stock exchange the Euro lost over one and a half cents against the dollar, to $1.3664.
The ten-year Italian bond yield exceeded the red line of 7%. Nikita Ignatenko, analyst at Invest Café, says the decision by the Italian government was inevitable.
"The 7% mark is the level at which Greece has asked for help from the EU, thus this is a sign for investors concerns. Despite the fact that Italian economy is stronger than Greece, the situation starts to get worrisome leading to an immediate action from the government."
Italy has one of the highest debts in Europe at €1.9 trillion ($2.6 trillion), and is widely considered far too big to bail out.
Bond-holders are unlikely to tolerate the government decision for elections in 60 day. This may postpone any decision making, even though Italy needs to roll over 300 billion euro of debt in 2012.
Investors are aware the austerity plans in Europe will have an impact on economic growth, which will have an affect on businesses and household consumption across the whole of Europe.
Andrey Dirgin, Head of Research at Forex Club, says"political and financial problems in the third-largest economy, in the eurozone – Italy – can be a catalyst for systemic problems in the EU."
Meanwhile, Russian stock markets are playing catch up to the negative mood. Oil prices are down 1.25%, from $115.01 to $113. So Russian stocks couldn't resist the downward trend with MICEX down 2.5% and RTS falling almost 4%.
Ignatenko concludes there are no hopes for positive trading day.
"In general, right now the Russian stocks are trading with pessimism, and closing of the trading session is likely to appear in the "red zone" with MICEX closed in negative losing 1-1.5% on the index and RTS losing 1.5-2%"