Scrap metal markets steeled against crisis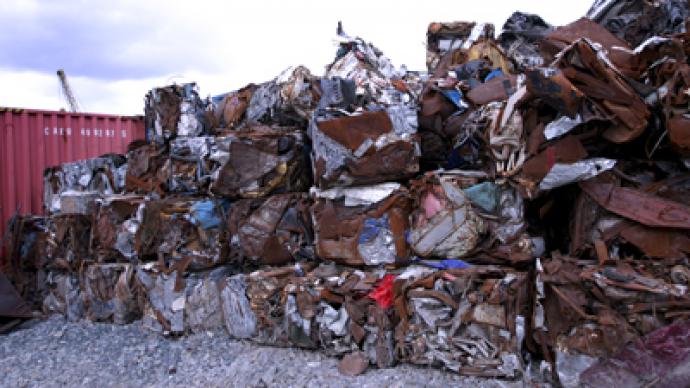 The market for scrap metals is one of those that gains on everybody else's problems. It has grown during the crisis, and Russia and Ukraine will get their big slices of the cake. The two countries may become among the biggest importers of scrap.
This is because the steel industry in these countries is set to grow in the future, Jarek Mlodziejewski, a key cog in the development of the ferrous scrap and coking coal indices at Steel Index, told Business RT. While most of the world's economies need to tighten their belts and seek ways to improve their production efficiency, the idea of recycling becomes increasingly popular. Developing the market for scrap metals seems a perfect solution to satisfy growing demand for steel. Major scrap importers have already significantly increased purchases from abroad, with China's scrap metals imports growing 55% in 2011, Taiwan's by 45% and India increasing imports by 25% over 2010. The Russian steel market is expected to grow in 2012, as demand from car producers and construction companies is likely to increase total steel products consumption 8-10% in the first six months of the year, MMK, Russia's leading steel producer said. Russia's growing market, which currently ranks fifth in the world, as well as Ukraine's prospective industry – ninth on the list – will obviously trigger demand for the raw material for steel, with scrap metals being a perfect option.In 2011, Russia increased its scrap exports to 1.5 million tonnes from 1.3 million tonnes a year earlier. This went mostly to its key export market of Turkey, which is also a leading importer of ferrous metals. The total market volume stood at around 65 million tonnes in 2011.Compared to the market leaders, the US and EU, where scrap exports stood at 19.5 million tonnes and around 20 million tonnes respectively in 2011, Russia's performance looks miserable. However, should Russia start recycling its metal products more efficiently, the figure could increase significantly, Steel Index experts say.The main problem for Russians now is that they "don't see it [scrap] as a commodity, they don't perceive it as a product," Mlodziejewski explains.To catch up with the world leaders in the scrap market, Russia needs to pass legislation over "end of waste criteria," Jarek Mlodziejewski advises. The EU did that in October 2011, having specified what is classified as waste and what could be used as a commodity for further production, the expert concluded.
You can share this story on social media: