Sberbank to claim compensation over its first acquisition in the west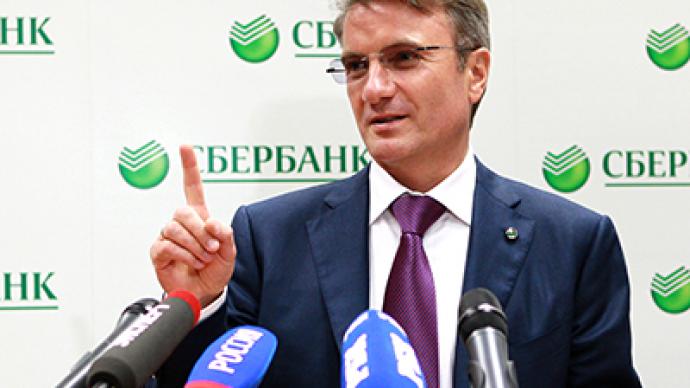 Sberbank, Russia's biggest lender could claim compensation from Austria's Volksbank over its first acquisition in the west, because the asset quality of the businesses it bought was worse than previously thought.
It may seek redress against Volksbank, as well as the Austrian auditors over the €500mn deal completed a year ago, according to Sberbank chief German Gref talking to the Financial Times (FT)."We do have certain issues with the asset quality of what we bought from Volksbank, compared with what was originally declared," Sberbank CEO German Gref told FT. "We anticipate having to have serious conversations with the auditors as well as with the bank."In 2011 the deal was signed between Sberbank of Russia and the shareholders of Volksbank International AG (VBI) – Österreichische Volksbanken-AG ("VBAG"), BPCE S.A. ("BPCE"), DZ BANK AG ("DZ BANK") and WGZ BANK AG ("WGZ BANK").VBI – which has since been rebranded Sberbank Europe –is expected to produce a €200mn loss for 2012, according to Gref. Problems at VBI Group that weren't evident at the close of the deal, is one of the key reasons. On top of that, the necessary reserves are not on the Austrian bank's balance sheet, as Vedomosti daily refers to the source close to Sberbank. Some rumours say VBI lacks around €80mn, while Sberbank has already spent €1bn to support it.The acquisition of VBI marked the first deal for Russia's oldest and most respected lender beyond the CIS, with Sberbank seeing the deal as an initial step on its way to global markets. However, moving to western Europe would take "several years," as Sberbank needs time to finish incorporating the acquired assets as well as waiting for attractive opportunities to emerge somewhere in struggling Europe."For the next two years at least, we don't envisage any significant commercial opportunities," Gref said. "Once growth [in Western Europe] returns, we should be ready to grow too. The platform needs to be mended and then turned into a growth engine."Sberbank is likely to succeed in getting compensation, according to Ekaterina Kondrashova, an analyst at Investcafe. Despite the sky high profits Sberbank has been making recently it still needs more to develop domestically, the Investcafe analyst concluded.
You can share this story on social media: