S&P downgrades 15 Spanish lenders
Published time: 16 Oct, 2012 09:27
Edited time: 16 Oct, 2012 15:46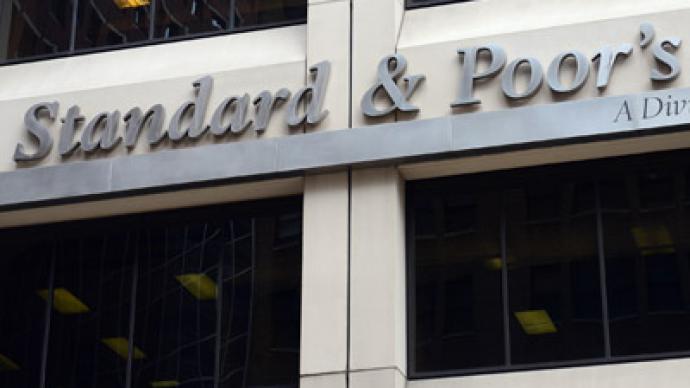 The US-based Standard & Poor's rating agency has cut credit ratings of 15 Spanish banks including the country's largest Banco Santander SA and Banco Bilbao Vizcaya Argentaria (BBVA), following the national rating cut last week.
"The sovereign downgrade has direct negative rating implications on those banks that we rated higher than the 'BBB-' long-term rating on Spain, and on all banks where we factored extraordinary government support into the ratings," the S&P said in a statement.
The S&P has lowered long-term ratings on 11 banks and the short-term ratings on four. Santander saw its long-term counterparty credit rating lowered by two levels from A- to BBB with a negative outlook. The S&P has also cut by one notch the ratings on CaixaBank, and its parent company Caja de Ahorros y Pensiones de Barcelona (La Caixa), Banco de Sabadell, Banco Popular Espanol, Bankia, and Banco Financiero y de Ahorros (BFA).

The ratings for six banks such as BFA, and Ibercaja have been put on Creditwatch negative, the agency said in a statement Tuesday. The S&P will continue reviewing the sovereign downgrade's implications, and is going to conclude the process next month, the company said. "For Santander and BBVA, we don't anticipate that we would lower" its ratings further, if at all, the S&P said after the review.
The rating action came a few days after Spain was downgraded by two notches to BBB-, one level above junk by the S&P after Madrid announced a fifth austerity package in less than a year and published details about stress tests of its banks. The Spanish government's options for averting a financial crisis are limited by a grinding recession, high unemployment and social unrest, S&P said in a statement.
Earlier this year Moody's rating agency downgraded 28 Spanish banks and the Fitch credit agency has cut ratings of 18 lenders following Spain's sovereign rating downgrades