Russian Railways to shed some ballast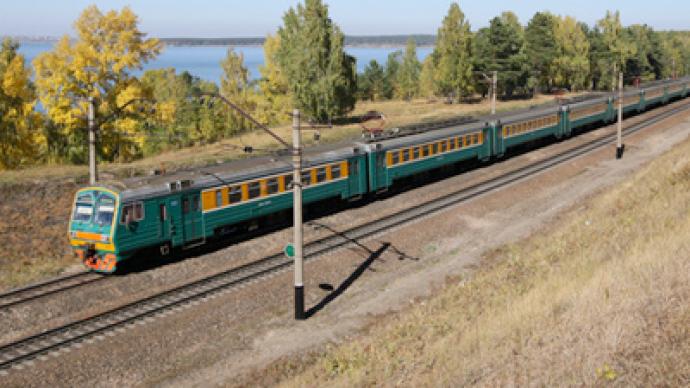 Russian Railways announced plans to sell 75% of one of Russia's largest ballast producers, the First Non-Metallic Company (PNK) for $100 million, a senior vice-president of RZhD, Valeriy Reshetnikov, told journalists on Wednesday.
"The stake will probably be offered at auction with a starting price not less than $100 billion," RZhD currently controls 100% minus 1 share of PNK and will keep a 25% stake in the company, the core business of which is the production of ballast. Reshetnikov said PNK is the core supplier for RZhD."Forty per cent of ballast produced by PNK is consumed by RZhD and its subsidiaries. The latest company financial statement posted 3.2 billion roubles in revenues for the year 2009," One of the main targets of Russian Railways' state-backed privatization plan is to sell non-core assets whereby other RZhD non-core units involved in rail road maintenance and construction such as Zheldorremmash, Vagonremmash, Moscow Locomotive Repair Plant and Novosibirsk Switch Plant are prepared to be privatized through the same scheme. Head of product development at FY BCS, Dmitry Kashaev, says the price is fair."The initial starting offer price, which is slightly higher than the company's annual revenue result, looks reasonable given that the company's revenues are highly dependant on its major consumer," Kashaev added PNK might be interesting to big companies of the same industrial sector."LSR and Severstal will most probably be the main candidates for PNK shares, assuming that these companies have a significant share of ballast production in their production portfolio. It is not excluded that big road construction companies such as Ingeocom and Bamtonnelstroy. A PNK stake will give companies access to major RZhD construction projects and will provide projects from the Government," LSR construction and building materials company confirmed their interest in the PNK stake acquisition."We did not know about the plans of Russian Railways to sell the PNK assets, but for us the acquisition of the first non-metal company is a good chance to increase the market share and expand operations," a spokesperson said.Tigran Hovhannisyan, senior analyst at Uralsib Capital, said the asset might be attractive only with the possibility to acquire the rest of shares from RZhD."RZhD has established the First Non-Metallic Company to meet its own needs for ballast products. I guess RZhD's decision to retain 25% of the company is based on the desire to keep control of its pricing and distribution policy. PNK is a good asset for companies such as LSR that control an average of 30-50% of the ballast production and distribution market in Russia. However, the company is likely to purchase a 75% stake from RHZD only under a contract agreement which obligates RZhD to sell the retained 25% to LSR on exclusive rights. I expect RZhD to sell the entire stake in two transactions. PNK will become more effective and transparent if fully privatized," According to the state privatization plan for 2010-2012, Russian Railways will offer shares in more than 30 of its subsidiaries, which will amount to approximately 150 billion roubles in cash equivalent.
You can share this story on social media: