Russian Railways board approves sale of 25% plus one share in Transcontainer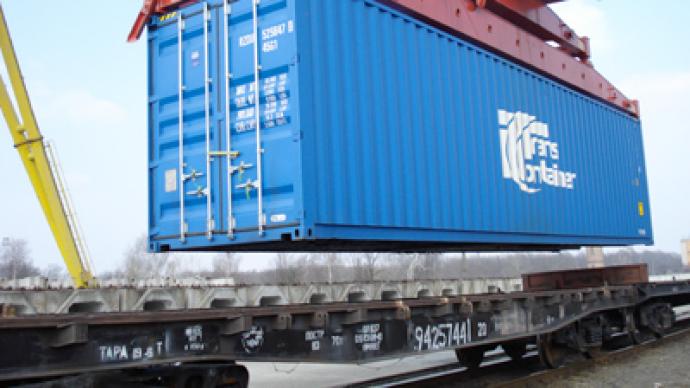 The Russian Railways (RZhD) board of directors has approved the sale of 25% plus one share in Transcontainer, for at least 10.7 billion roubles, implying a price of 3080 Roubles per share, or $10.84 per GDR.
The decision to sell shares of Russia´s leading operator of container shipments was announced at a meeting on Tuesday by board chairman, Deputy Prime Minister Alexander Zhukov.
"Twenty-five percent plus one share will be offered for sale at open auction by means of price step-change in 2011."
Zhukov added that further privatization of Russian Railways other 25%plus one share in the operator, would be decided on at a later date, noting the significant growth potential of Transcontainer, which has surged 260% overall since the company was set up, and 40% since its IPO in November.
"This decision is in Transcontainer's hands, with the Company's value having gone up very sharply in last years. We assume that the share value will go on rising in the near future."
In November last year Transcontainer placed 35% minus 2 shares in an IPO, with FESCO group now having about 12.5% of the company and mooting plans to gain control over the operator. Globaltrans has also expressed interest in the shipment Company earlier in April 2011.
Troika Dialog analysts Mikhail Ganelin and Ivan Belyaev, thought FESCO was the most likely buyer.
"The announced price is just 2% below yesterday's closing price on MICEX (R3,142 per share) and 27.5% higher than the IPO price in November 2010. According to media speculation, the potential candidates include FESCO, Globaltrans and Vladimir Lisin's UCL Holding. We believe that FESCO, which already owns 12.5% of TransContainer, is the main candidate, while the others might be more interested in a different auction for a 75% stake in Freight One, which will take place in 3Q11. The announced price for TransContainer will likely support the stock, because if FESCO wins, then it will cross the 30% ownership threshold and be obliged to make a mandatory buyout offer."