VSMPO-AVISMA world titanium giant gets back its shares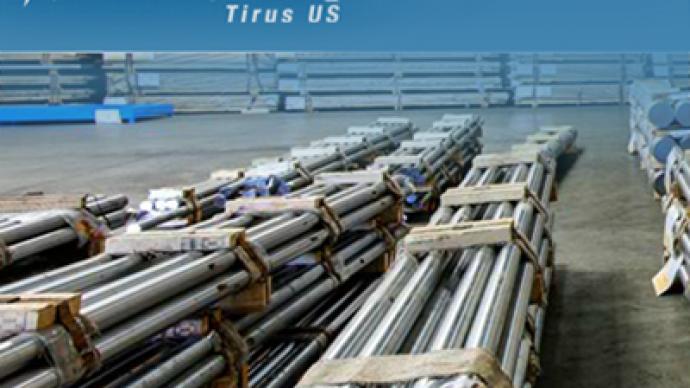 The state corporation Russian Technologies (Rostekhnologii) is selling its 45.42% stake in VSMPO – AVISMA back to the titanium producer and Gazprombank for $970mln. That's after Rostekhnologii made sure VSMPO had recovered from the crisis.
Following the deal, Nordcom, a Cyprus-registered joint venture between the management and Russia's third largest lender Gazprombank will own 50% plus one share in the corporation. Rostekhnologii will be left with a blocking stake of 25% plus one share, which allows the state corporation to veto decisions by the VSMPO board of directors.
However, Rostekhnologii will keep its shares because Russian law provides that the government has to own a blocking share in any strategic civilian enterprise that uses dual-purpose technology. Titanium is widely used in defense-related products.
"The enterprise [VSMPO – AVISMA] is now financially stable and has guaranteed orders, and has excellent growth prospects. We think this is a good time to hand control to the management, whichis buying our asset at a considerable premium," said Sergey Chemezov, the head ofRostekhnologii.
The cost of the deal is calculated on $187 per share, while the average price for the last three months has been $161. This creates a 16% premium for the titanium producer.
"VSMPO-AVISMA's current management has succeeded in raising titanium production significantly. The all-time record for this has been exceeded by 10% this year. We expect output by the corporation will rise 10%-15% per year until 2015," Chemezov specified.
Rostekhnologii took control over VSMPO – AVISMA when a shareholder row put at stake production, the official statement explains. In 2007 a $1bn investment programme was started, with money injections continuing to flow even during the crisis year of 2008. The main indicator of operation efficiency – net profit – grew from $5.6mn in 2009 to $2.3bn in 2012, or more than 40 times, the report stressed.
At the moment VSMPO – AVISMA controls around 30% of the world titanium market.
The deal is expected to be completed within two weeks.