M&A makes its way back to Russian market front and centre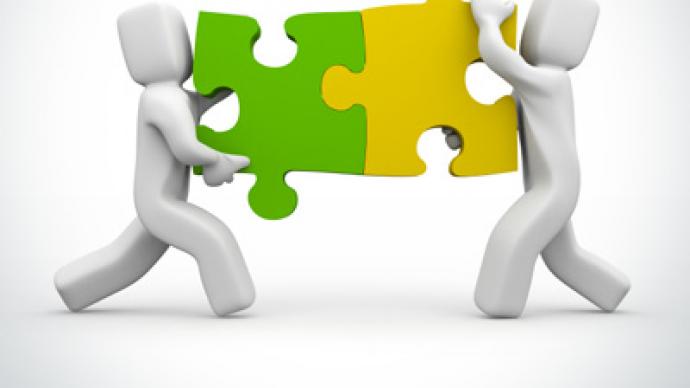 The Russian Merger and Acquisition market is likely to continue picking up steam going forward, with analysts saying fragmented industries and easy access to capital will drive large scale buyouts in the Russian corporate world.
­According to KPMG's annual survey of Russia's mergers and acquisitions (M&A) market, 2010 was a year of recovery with the first quarter of 2011 seeing a significant increase in deal activity.   Three large M&A deals, involving VimpelCom and Egypt's Weather Investments, Lukoil and ConocoPhilips, and Uralkali and Silvinit, accounted for a third of the market in 2010.  In the last 4 months M&A activity climbed to 47% of total investment.
"Russia's M&A market almost doubled in size, growing from USD 48.8 billion to USD 95.6 billion. For the remainder of 2011 KPMG expects increasing investor confidence to generate more inbound deal activity from strategic trade buyers, particularly in sectors such as consumer markets." 

Despite the significant upturn, M&A activity remains well down on pre-crisis levels, and the Russian share of the global M&A market in 2010 (3.85%) was less than it was in 2008, when the market was valued at USD122.4 billion and its share of the global market was 4.96%.

In terms of its structure and growth the market remains primarily driven by domestic transactions according to KPMG.
"Russia's M&A market is primarily reliant on domestic transactions. If transactions accounting for more than 15% of a market segment are excluded, it becomes clear that in terms of its structure and growth Russia's M&A market is driven by domestic transactions – the figures once the biggest transactions have been removed from the equation show 49% growth in the volume of domestic transactions in 2010."
Arseniy Dabbakh, M&A market analyst at Rye Man & Gor securities, said the market activity is rebounding with this year a number of deals in the pipeline

"The M&A market has came in under expecatations in 2010 on fears of an overvalued market, many projected deals were postponed due to unfavorable market conditions, an echo of the crisis that has seen many companies cutting their profits and increasing debt burden. Investors and shareholders were quite prudent and avoided any acquisition of over valued companies. Although, as soon as companies show confident financial results, which they have started to post already, market activity is likely to intensify."
The KPMG report says that as the global markets stabilized investors focussed on strategic rather than speculative transactions. 

"Metals & mining companies and communications service providers entered into deals as part of vertical integration to strengthen their position in terms of distribution, logistics and supply of raw and other materials. In other sectors, such as oil & gas, most of the major deals were linked to consolidation and the future growth of major national companies."
Shawn McCarthy, Partner, M&A Group at KPMG in Russia and the CIS, said impressive industrial figures and government intentions to boost investment are likely to warm up M&A deals
"M&A activity will continue to be driven by trade buyers looking at transactions that underpin their respective growth agendas in the region. We expect more inbound deals as investor sentiment warms, partially as a result of the government's efforts to attract foreign investment and improve the perception of Russia as an investment destination.  While recovery has generated increased interest in almost all industry sectors, save for real estate which remains soft, we see a significant uptick in the number of opportunities emerging in the consumer and natural resources spaces." 

Maxim Shein, head of analysis at BCS, says M&A activity is likely to accelerate, with the banking sectors and retail sector likely to be drivers.

"Lest you forget, all significant merges and acquisitions have occurred during the economic downturn when enterprises take their chance to expand market presence, boost client base, reduce expenses and improve results from increased business scale. However, it is a general fallacy to count all share exchanges and acquisitions of less than 50% of shares as M&A. In 2010 we saw at least three large scale M&A deals and I anticipate more transactions in the following years. For instance, retail and banking sector will probably see the most part of M&A deals, assuming that banks have already shown signs for these types of deals. The Central Bank's tough regulations and increased requirements for minimum capital for Russian banks will be the main driver for M&A transactions in banking sector. In connection to retail business, the sector giants will accelerate expansion through acquisition and re branding of smaller retailers."
Arseniy Dabbakh, from Rye Man & Gor securities, also believes the retail sector will be in the spotlight, with major players in Russias fragmentedf rteail sector looking to consolidate.

"We expect a majority of the deals in the retail sector.  Magnit and X5 group may look for potential deals and further consolidation. I believe, companies that have postponed M&A deals will come back to their plans this year. I expect more transactions to occur in Real Estate sector in terms of acquisition of individual investment project, and the banking sector and pharmaceuticals will be among market leaders also. In addition, the major food producers, for instance, dairy product producers will continue sector consolidation. The M&A deals are very positive for the whole market and for consumers. The bigger the company the more capital it possesses, consequently, the quality and prices improve. Of course, FAS will regulate this market and will not let any monopolization to emerge. For small business, unfortunately, M&A deals can result in very tough operation conditions – fierce competition and pressure from suppliers."