Russia's parliament ratifies WTO entry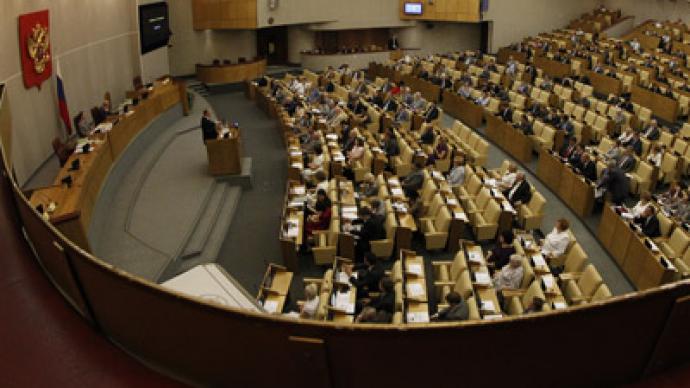 Russia's State Duma has ratified the agreement for Russia to join the World Trade Organization despite opposition inside the country. On Monday Russia's Constitutional Court ruled the WTO deal was in line with the country's law.
Russia, which used to be the largest economy outside the global trade organization would become a full member 30 days after ratification. The country reached the deal to enter the WTO last December after 18 years of negotiations. Under the agreement, Russia would reduce average import tariffs to 7.8% from 10% and open up investment in sectors such as telecommunications.Russian Minister of Economic Development Andrey Belousov revealed the country is expected to lose up to 445 billion roubles over two years due to reduced import duties. But they would be balanced by increased trade, he added.Much of these losses will pertain to the shortfalls from Russia's import competing sectors, such as agriculture, textiles, Yaroslav Lissovolik, chief economist at Deutsche Bank Russia, told RT. "At the same time I think there will be substantial benefits emanating from the fact that export industries will also benefit from Russia's WTO accession," Lissovolik believes. "And there are also transition periods which may be as long as five or seven or nine years and the impact of these transition periods will soften the negative implications of Russia's WTO accession."Ealier this year over 130 MPs from the State Duma's opposition factions appealed to the Constitutional Court saying the protocol on WTO entry not only violates Russian law, but also undermines the country's economic security. The application to the court was signed by 90 Communists and 41 Fair Russia members.The Constitutional Court said on Monday that "the Protocol was signed and approved in a procedure that does not contradict the state's constitutional foundations. The court examined the document following a request by MPs from the State Duma's leftist opposition factions.Leftists have held rallies in Moscow and other Russian cities opposing Russia's joining WTO. Meanwhile more and more Russians have become wary of the WTO. Currently, 39 % of the population welcome Russia's WTO membership, compared to 59% in May 2003, a poll revealed.However, the World Bank estimates Russian GDP growth could be 3.3% over the medium term and as much as 11% in the long term after joining the WTO.
You can share this story on social media: