Record low unemployment in Russia at 5.2%
Published time: 11 Dec, 2012 13:49
Edited time: 11 Dec, 2012 17:49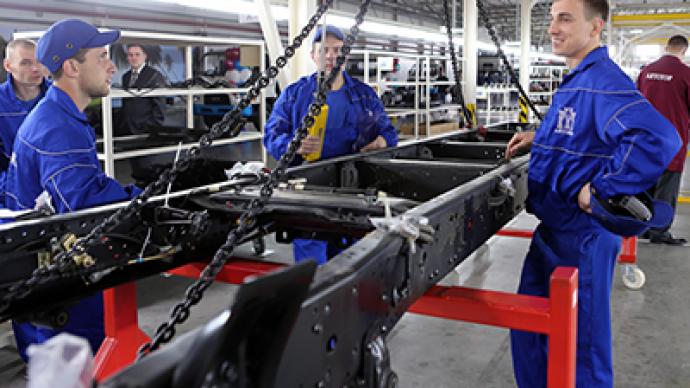 The number of Russians without a job has reached its lowest ever level, according to the country's Vice Premier Olga Golodets. This is in contrast to Europe which is struggling with sky-high unemployment rates.
Russia has never seen such a low unemployment rate before, according to Golodets. At the moment about 4 million Russians looking for work remain unemployed.
The unemployment rate in the Eurozone hit a new record of 11.6% in September, where Spain suffered the most of pain – with a 25.8% unemployment rate and Greece having 25.1% of its population seeking to get job. Also, unlike European countries, Russia has accumulated "a large stock" for creating more new jobs, the Vice Premier added.
"Low unemployment is certainly a positive factor for economic development, that favorably distinguishes our economy from most of the developed ones," commented Darya Pichugina of Investcafe. "It's worth saying that its official data and that doesn't take into account unregistered unemployed. On top of that, the good average for unemployment could be mostly due to large cities and big construction sites, with figures for separate regions varying," Pichugina added.
However, improved unemployment figures mostly reflect better opportunities for Russians with certain experience, as young graduates still have difficulties in finding a place to work, Golodets added. Russia's Statistics Service reported that youth unemployment in Russia stood at 16.8% for people aged between 15 and 24.
However, data from the US Institute for Public Opinion – Gallup Institute – doesn't look that rosy, saying that the real unemployment rate in Russia is 3 times higher than the officially reported one. The Gallop calculations show that unemployment among women stands at 22%, while for men – at 19%.
The total unemployment figure was calculated to International Labor Organization standards that consider all unemployed people who don't have permanent occupation that brings them money.
Another way to figure out the unemployment rate in Russia is used by the Federal Labor and Unemployment Service. The latter takes into account those who registered their unemployment status with the appropriate services. Calculated to this standard, Russia's official unemployment in October stood at its lowest since the start of the century. The number of registered unemployed stood at million people, while more than 70mn had a job.