Market Buzz: Russia back in the ranks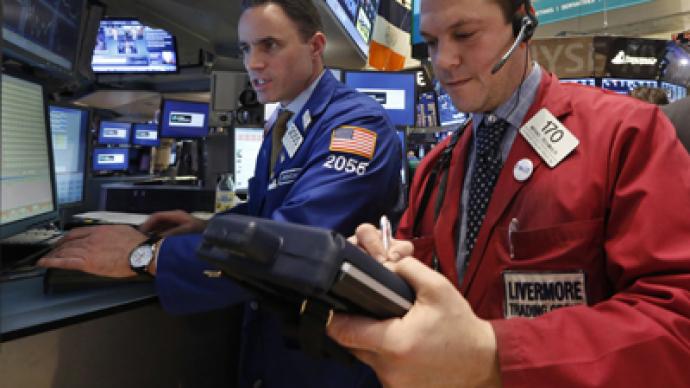 Russian stocks, back to normal trading schedule after New Year holidays, are expected to be looking westward for good news. That's after the country's key indices went up on Tuesday, upbeat about developments over the 'fiscal cliff' issue.
The November index for industrial production in Germany will become the most important market driver on Wednesday, Grigory Birg of Investcafe told RT via email. The indicator lost 2.6% in October, with a further decline likely to have a negative impact on a share market.Tuesday marked the first working day for Russian floors in 2013 after a 10–day pause for traditional New Year celebrations. Both the RTS and the MICEX had a good start to the year, rising 3.22% and 2.72% respectively. This is because the floors were winning back the news that the US has so far managed to escape the fiscal cliff.In the early hours of 2013, US politicians finally agreed a deal on tax and spending, stipulating raising income tax for individuals making $400,000 and coupling earning $450,000 from 35% to 39.6%, as well as permanently extending Bush-era tax cuts for those earning less than $400,000 annually. On top of that, the legislation proposes a one-year extension on unemployment insurance benefits, which are about to expire for 2 million people. The bill doesn't include any cuts to entitlement programs such as social security or Medicare. It also does not tackle the issue of raising the debt ceiling from the current limit of $16.4 trillion, which the US is about to cross. At present, the US national debt stands at $16.438 trillion.In the US, the stocks were in the red for the second consecutive day on Tuesday. That's at a time when aluminum giant Alcoa opened a reporting season for corporate America with better-than-expected quarterly results. The company reported sales of $5.9 billion in Q4, above analysts' estimates of a drop to $5.6 billion. The Dow Jones Industrial Average, S&P 500, and Nasdaq closed down between 0.2% and 0.4%, bouncing back from steeper declines ahead of the close.European markets finished mixed as of the most recent closing prices. The CAC 40 gained 0.03%, while the DAX led the FTSE 100 lower. They fell 0.48% and 0.18% respectively.Asian markets were mixed on Tuesday. The Nikkei 225 was up 0.89% while the Hang Seng gained 0.36% and the Shanghai Composite lost 0.03%.
You can share this story on social media: