Market Buzz: No major moves as world awaits US corporate earnings reports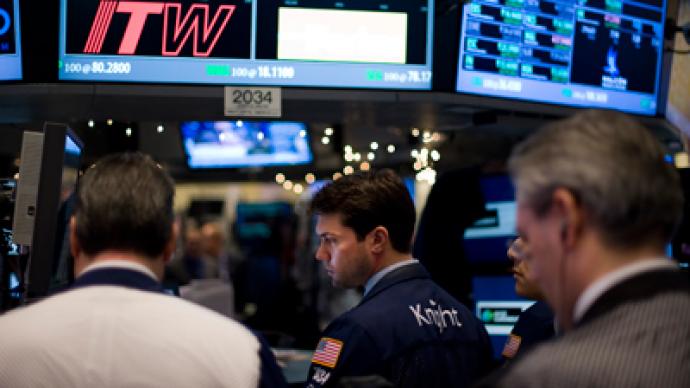 Global investors are expected to hold off on major action until corporate reports from the US give an indication of the state of the world's largest economy. Uncertainty around the US debt ceiling has added to an overall market malaise.
"In the near future they expect quarterly reports of American banks to be released, with their success now likely to become the only notable growth stimulus. And so far a Russian market seems to freeze up pending developments on global floors," Liliya Brueva of Investcafe wrote in an email to RT.Russian stocks closed mixed after Tuesday's session: The RTS lost 0.86% to end at 1,576.54, and the MICEX climbed 0.11% to 1,516.92.International investors generally held off on big moves until a clearer picture emerges of US corporate profits. Goldman Sachs and JPMorgan Chase will report their results Wednesday, while Intel, Bank of America and General Electric are due later in the week.The unresolved issue of raising the US debt ceiling is another source of investor uncertainty. Fed chief Ben Bernanke and US Treasury Secretary Timothy Geithner offered sharp commentaries on the issue; Geithner argued that unless the debt ceiling is raised, the US may default on its debts as early as the end of February, Brueva said."If you thought the US fiscal cliff worries were over think again, as markets were shrouded in more uncertainty about the outcome of future negotiations in respect of the US debt ceiling," said Angus Campbell, head of market analysis at Capital Spreads.The Dow Jones Industrial Average and S&P 500 closed up between 0.1% and 0.2% on Tuesday. The Nasdaq dipped 0.2%. Asian markets also traded mixed: Japan's Nikkei advanced 0.7% after being closed Monday for a holiday, the Shanghai Composite added 0.6% and the Hang Seng declined 0.1%.European markets finished mixed as of the most recent closing prices. The FTSE 100 gained 0.15%, while the DAX led the CAC 40 lower, falling 0.69% and 0.29% respectively.
You can share this story on social media: