Market Buzz: ECB upbeat, but what do Germans think?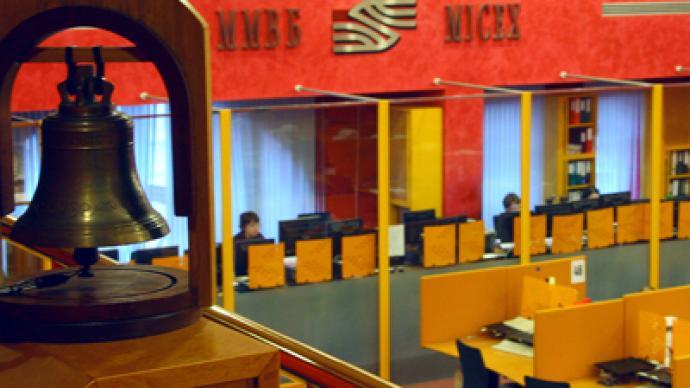 On Tuesday, investors in Russia are expected to be reflecting on a speech by the head of the European Central Bank, as well as watching for news about market sentiment in Germany.
"Having no evening trade in the US [due to celebration of President's Day], tomorrow [Tuesday] the Russian market will be referring to Europe – the Russian market will be able to win back the reaction of European investors to the statement of Draghi to the Europarliament," Veles Capital analysts wrote in an email.Mario Draghi, the head of the European Central Bank (ECB), sounded positive about the outlook for the global economy in 2013, which should be a good reason for stocks to grow on Tuesday."Economic weakness in the early part of 2013 is expected to be followed by a very gradual recovery later in the year. Strengthening global demand, our accommodative monetary policy stance and the improvement in financial market confidence across euro area countries should all work their way through to spending and investment decisions and support the recovery," Draghi said.Among Tuesday news, pegs from the West would be the data on economic sentiment index in Germany, which will be closely watched to see whether the European economic powerhouse can rebound strongly from its contraction in 4Q2012. On Wednesday, the UK labor market data will also be closely watched "to see if employment can continue to surprise to the upside despite a flat lining economy," Angus Campbell, head of market analysis at Capital Spreads, explained.Political challenges will also play their tune during the week, with Italian general elections scheduled for February 24–25 and the March 1 deadline for sequester talks in the US looming. Back in early January 2013, US policymakers decided to delay a final decision on its 'fiscal cliff' issue, saying it would allow another chance to reach a compromise agreement on spending cuts.Fiscal cliff is term is used to refer to the economic effects that could result from tax increases and spending cuts aimed at dealing with the US sky – high national debt. On Monday, Russian stocks finished slightly higher. The RTS added 0.09% to 1,578.65, with the MICEX gaining 0.14% to 1,510.35.December 2012 current account of the eurozone – one of the key market drivers on Monday – recorded a surplus of €13.9 billion, while analysts expected that to stand at €15.3 billion.European markets finished Monday trading mixed as of the most recent closing prices. The DAX gained 0.46% and the CAC 40 rose 0.18%. The FTSE 100 lost 0.16%.Japanese shares are lower on Tuesday as the Nikkei 225 falls 0.24%. The stock markets in Hong Kong and Shanghai are closed at this time.
You can share this story on social media: