Market Buzz: Eurozone GDP woes bring everyone down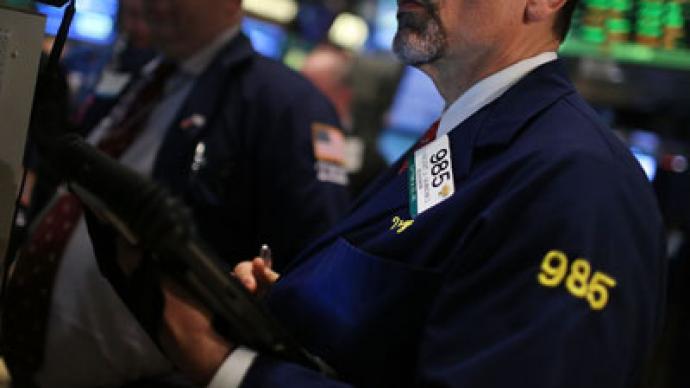 News of another consecutive contraction in Europe for Q4 2012 depressed major indices around the world on Thursday, as investors grow increasingly doubtful about a recovery in 2013.
The eurozone's GDP contracted 0.9% year-on-year during the last quarter of 2012, while most expected it to lose only 0.7%. "This fall turned out to be a maximum one since 1Q 2009, when the world financial crisis was at its full swing. Given this the perspective, a further recovery in 2013 becomes more uncertain," Investcafe analyst Darya Pichugina wrote in an email.In quarter-on-quarter terms, the eurozone GDP shrank 0.6% in Q4 2012, marking the third consecutive quarter of declining growth.Russian stocks ended Thursday trading in the red. The RTS lost 1.51% to 1,588.31 and the MICEX was down 1.22% to 1,519.22.The contraction in Europe's biggest economies such as Germany and France "acted as a reminder that no one is immune to the eurozone debt crisis," said Angus Campbell, head of market analysis at Capital Spreads.Germany's GDP fell 0.6% quarter-on-quarter Q4 2012, but in annual terms the economy grew 0.4%. In France, the GDP was down 0.3% both from the last quarter and from a year earlier.European markets finished broadly lower on Thursday, with shares in Germany leading the slide. The DAX lost 1.05%, while France's CAC 40 fell 0.78% and London's FTSE 100 slipped 0.50%. On Wall Street, major indices traded mixed. The Dow Jones Industrial Average lost 0.1%, while the S&P 500 and Nasdaq grew 0.1%. Better-than-expected figures from the US labor market almost lost their allure in the wake of the disappointing news from Europe. The Labor Department reported that the number of people in the US filing for first-time unemployment claims fell by 27,000 to 341,000 in the most recent week. Economists had predicted 365,000 claims.Japanese shares are lower today as the Nikkei 225 fell 1.60%. Stock markets in Hong Kong and Shanghai are closed.
You can share this story on social media: