Platinum OPEC: Russia, S. Africa hint at precious metals consortium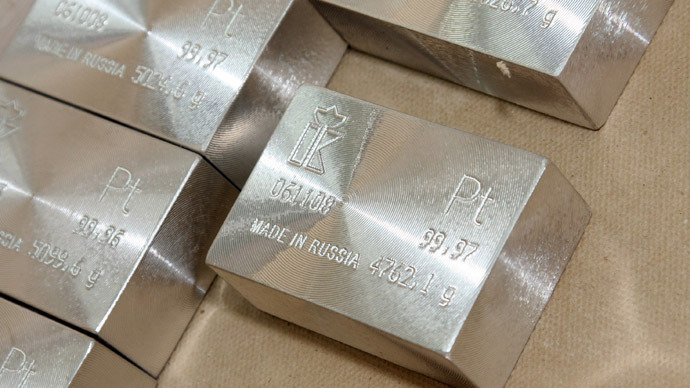 Russia and South Africa, the world's two major platinum producers, who together control about 90% of the world's supply, plan to create an OPEC-style trading bloc to control the flow of precious metals exports.
The BRICS summit is in full swing in Durban, but the biggest deals are on the sidelines, in between the se t agenda of conferences, luncheons, and speeches. On Tuesday, Russian President Vladimir Putin and South African President Zuma signed a joint memorandum to work together to regulate the oversupply of platinum by creating a market regulatory body modeled on the Organization of Petroleum Exporting Countries (OPEC), 
"Our goal is to coordinate our actions accordingly to expand the markets for realization of these metals," Russian Natural Resources Minister Sergey Donskoy told Bloomberg. "The price depends on the structure of the market and we will form the structure of the market."
If South Africa and Russia create a joint partnership to control platinum production, it will offset some of the idiosyncrasies of the market, and most importantly, increase direct pricing control. "We are now forming working groups to work out joint actions on this market," Donskoy said.
South African Mining Minister Susan Shabangu confirmed the plan, mentioning that taxes and incentives could be used to effect greater control of a resource that brings both countries significant wealth. "We're not really controlling the market," she told reporters in Durban. "We want to contribute without creating a cartel, but we want to influence the markets."
Other major producers of platinum will be invited to join the 'cartel,' and talks will likely continue in the summer.
Platinum market
Platinum suffered a 21% decrease last year due to a weak European auto market, but prices have already risen 2.7% in 2013 as the eurozone crisis has slightly eased and auto demand recovered. Platinum is also used to make jewelry.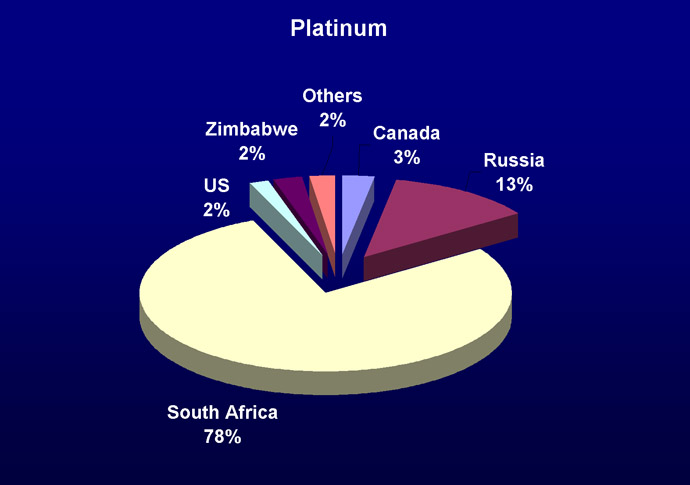 The price of platinum currently stands at $1,572.60, slightly above the year average, which has ranged from $1,380 to $1,740. Both platinum and palladium prices have dropped from their February 2013 highs.
Russia and South Africa are the world's two major platinum and palladium producers, and a partnership between the two is certainly noteworthy.
Russia is the world's top palladium producer, supplying 43.3% of the industry, according to infomine.com. South Africa is the largest producer of platinum, with a 77% market share, and Russia is second, supplying 11.6% of the market. Together, they almost have complete market dominance of platinum, at nearly 90%.
The mining industry in Russia is state-owned and controlled, and is mostly closed to foreign investment. Jacob Zuma has been battling the debate to nationalize mining in South Africa since he assumed the presidency.
Falling demand, low productivity and strikes have complicated the South African mining sector, which produces an annual average of 289 tons of platinum. Amplats, a large South African mine, plans to slash 14,000 jobs in Rustenberg by March 31; weak metal prices cannot sustain the current non-mechanical extraction method in the cramped mines.
According to investment bank CIBC, a 25% wage cut is needed to make platinum viable – something the unions have dismissed and are now striking against.
In April 2012, an estimated reserve of 14.2 million tons of platinum was discovered by GIS technology in the Baula-Nuasahi region, an eastern Indian province.
The only platinum that has been extracted outside of Russia and the African continent is in Canada's Yukon territory.
You can share this story on social media: