BRICS plan new $50bn bank to rival World Bank and IMF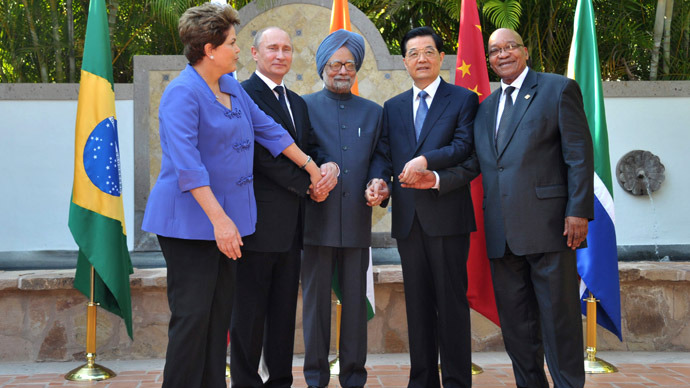 The 'big five' of the developing world, the BRICS nations, have agreed to create their own version of the World Bank at their fifth annual summit, which kicked off Tuesday in sunny Durban, South Africa.
The five BRICS states agreed to establish the BRICS Development Bank, South African Finance Minister Pravin Gordhan said on Tuesday.
The move is linked to the developing world's disillusionment with the status quo of world financial institutions. The World Bank and IMF continue to favor US and European presidents over BRICS nations, and in 2010, the US failed to ratify a 2010 agreement which would allow more IMF funds to be allocated to developing nations.

"Not long ago we discussed the formation of a developmental bank... Today we are ready to launch it," South African President Jacob Zuma said on Monday.

The 'big five'- Brazil, Russia, India, China, and its newest addition, South Africa, come together for the annual conference this year in Durban, South Africa in hopes of establishing a new development bank which will fund infrastructure and development projects in the five member states, and will pool foreign currencies to fend off any impending financial crisis.

The BRICS have called for a reconstruction of the World Bank and IMF, which were created in 1944, and want to put forth their own 'Bretton Woods' accord. And they are serious.

"Brics is not a talk show. It is a serious grouping," Zuma told reporters at the presidential guest house in Pretoria.

The new bank will cater to developing world interests and will symbolize a great economic and political union.

"There's a shift in power from the traditional to the emerging world. There is a lot of geo-political concern about this shift in the western world," Martyn Davies, chief executive officer of Johannesburg-based Frontier Advisory, told Bloomberg.

"A future BRICS Investment Bank is seen as a mechanism that would help realize where money should go, agree development strategies and coordinate investment," explained Georgy Toloraya, the executive director of Russia's national committee for BRICS studies to SA News.

In its nebulous stage, the new BRICS bank is unanimously supported by all five member states. In Durban, problems will arise on how to govern, fund, and operate the grand venture.

"When you set up a bank like this it's not just a question of opening the doors. There are some issues about where it is going to be located, what the capital contributions are going to be, the rules of deploying that investment. These are the sort of details that are in various stages of discussion and negotiation," said South African Trade Minister Rob Davies, in a statement.

The leaders may not reach a specific agreement in Durban this week, as each country has its own stipulations on its creation. Russia, for example, wants to cap each side's initial contribution to $10 billion, according to Mikhail Margelov, part of President Putin's team in South Africa.


Emergency Currency Fund
Pooling currency to deflect a future crisis is also a high priority topic set for the conference.
Once a loose political affiliation, the BRICS bloc is now a serious economic contender in the world economy, representing 40% of the world's population, and accounting for one fifth of global GDP.
Between the five countries, the bloc holds foreign-currency reserves of $4.4 trillion, and needs an institution to safeguard this amassing wealth. The reserve will also protect members from short-term liquidity volatility and balance-of-payment problems.
Presently, it is proposed the member states contribute an equal share to the fund, but there is still dispute over whether to involve IMF management. India has voiced support for IMF involvement, but other BRICS countries may resist.
"A reserve pool, I think, is still some way off, " said Davies.
In October, Brazilian Finance Minister Guido Mantega suggested the pool be modeled after the Chiang Mai Initiative, which provides a financial safety blanket to south east Asian countries.
Trade within the group swelled to $282 billion last year and could very well reach $500 billion by 2015, according to Brazilian government data.
Currency swap
Meanwhile, ahead of the official opening of the summit Finance ministers Lou Jiwei of China and Guido Mantega of Brazil signed a multi-billion currency swap agreement between their countries as the BRICS group works to lessen trade dependence on the US dollar and the euro. 
Brazil's Mantega said the agreement involves using local currencies for up to $30 billion of trade with China, nearly half its annual $75 billion trade with Beijing.
"Our memorandum is a kind of umbrella agreement in the context of a closer relationship with China in the finance, economic, commercial and border areas," Guido Mantega said.
As the financial crisis continues to rage across the eurozone and the developed countries show little signs of growth, the World Bank says that global economic growth is increasingly dependent on the BRICS countries, which account for 27% of global purchasing power and 45% of the world's workforce.

Many Firsts
The conference is a benchmark of many firsts. It is the first time the conference has been held on South African soil.
For China, it is President Xi's first visit to South Africa, where China is a leading trading partner and investor. In 2012, the trade between the two countries was 201bln ZAR ($21bln), according to the South African Revenue Service.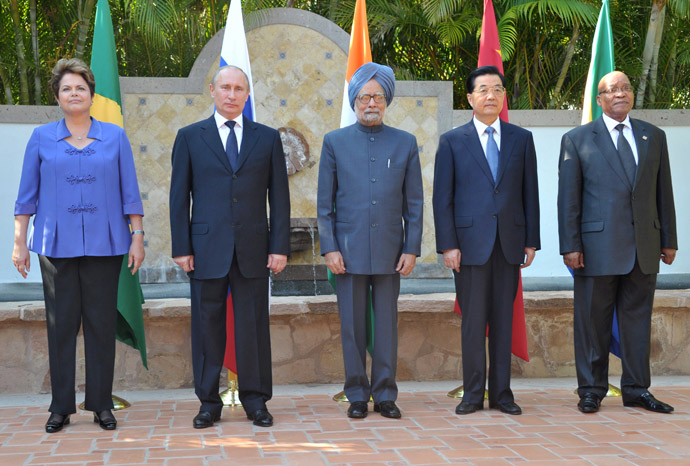 The conference is also President Vladimir Putin's first international visit in 2013.
For South Africa, which makes up just 2.5% of total gross domestic product in BRICS, the summit is a way to showcase its role as an investment gateway to Africa. South Africa is the newest and smallest member of the BRIC bloc. It has the 28th highest ranked GDP in the world: China is 2nd, Brazil 6th, Russia 9th and India 10th.
You can share this story on social media: