High oil price: fuel for Russian manufacturing, decelerator for Europe
Published time: 1 Oct, 2012 10:59
Edited time: 1 Oct, 2012 15:00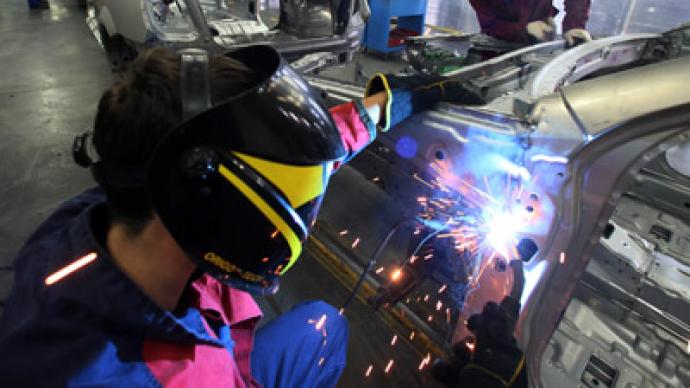 Russia's manufacturing output kept growing in September, largely reflecting higher oil prices. More expensive commodities have been the main drag on European economies.
Operating conditions for Russian manufacturing kept on improving in September, as its Purchasing Manager Index (PMI) – an indicator of business activity in the sector – rose to 52.4 from the August figure of 51.0. The latest reading was also slightly above its historic average of 52.1 and a far better performance than Eurozone economies, where the PMI slipped to a 3 year low of 46.1.
A PMI reading above 50 points to growth, below 50 pointing to economic contraction.
The Russian indicator is calculated on a monthly basis by Markit Economics financial service with HSBC Bank.
"The energy-biased structure of Russian exports makes it pretty resilient to weaknesses in international trade," explained Alexander Morozov, Chief Economist (Russia and CIS) at HSBC. Continuing growth among Russian companies "provides arguments for the continuation of monetary policy tightening, we think," Morozov added.
Earlier in September the Russian Central Bank made borrowing in the country more expensive lifting its key rates 0.25 points to 8.25%. This was followed by the regulator's announcement it would try to keep a lid on the maximum deposit rate to help Russian banking avoid a collapse.
In Eurozone, PMI shrank to the lowest since Q2 2009, with France becoming the new big concern. The country's PMI was at 42.7 in September, which is the lowest in 3.5 years and just slightly above that for Greece – one of the most troubled economies in the region. "Moreover, the month-on-month decline in the level of the French PMI was among the steepest in its history, following similarly sharp accelerations in the rates of contraction for both production and new orders," the report said.
"Input costs also jumped higher, largely reflecting high oil and agricultural commodity prices," explained Chris Williamson, Chief Economist at Markit.
However, Germany, Italy and Spain saw some improvement, reaching six month highs.