No growth for Europe until 2014 – the S&P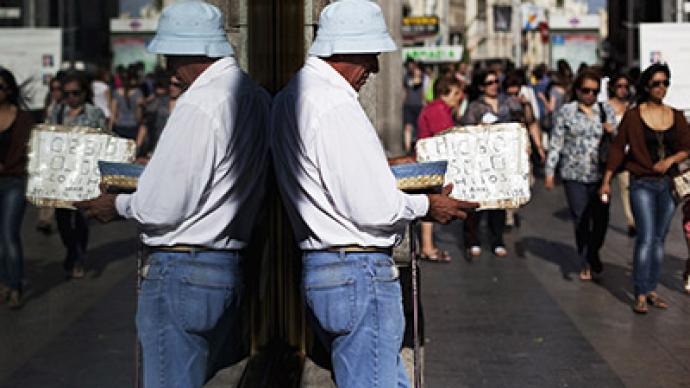 The US credit rating agency Standard & Poor's has slashed its forecasts for the eurozone, warning that the region's economy won't start to grow at least until 2014.
In its new paper "New Recession in the Eurozone" S&P suggests the eurozone GDP will shrink by 0.8% this year, compared with 0.7% previously estimated. Growth in 2013 is expected to be zero compared to the earlier forecast of up 0.3%, according to the study. "Recent economic indicators continue to paint a bleak picture for Europe. The data confirms our view that the region is entering a new period of recession, after three quarters of negative or flat growth since the final quarter of 2010," said Jean-Michel Six, Standard & Poor's chief economist for Europe, the Middle East, and Africa.However, the prospects vary from country to country  S&P stressed, as it forecast steady growth in the smaller open economies such as Switzerland, Sweden, and Belgium "In particular, we forecast another year of very weak growth in 2013 in France and the U.K., and further declines in output in Italy and Spain," the paper said.The rating firm was particularly pessimistic on Spain as it expects Europe's fourth-largest economy to shrink by at least 1.4% next year, more than double its previous estimate of 0.6% decline. S&P reaffirmed Spain's BBB+ debt rating, two notches above so-called junk status. The eurozone economy contracted 0.2% in the second quarter of 2012, according to Eurostat data. Unemployment in the region remains at a record high 11.3%. Recent PMI data showed a sharp slowdown in manufacturing and service sectors, while Monday's reading of German business confidence fell to the lowest level over two and a half years.On Monday the head of the International Monetary Fund Christine Lagarde called on the leaders in Europe and the US to take urgent action to curb the crisis. "Uncertainty in the eurozone remains the greatest risk to the global economy today," Lagarde said in a speech to the Peterson Institute for International Economics.
You can share this story on social media: