Russian retailer Magnit gets higher weighting in key market index
Published time: 29 May, 2013 09:35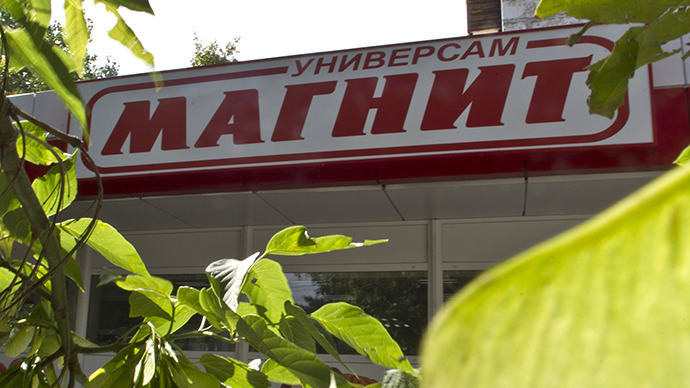 The Magnit retail chain has become one of the 'heavyweight' stocks in the MSCI Russia 10/40 index – a yardstick for many foreign investors. The company now has weighting in the index on a par with Gazprom and Sberbank.
After a revision of the MSCI Russia 10/40 index the weighting of Russia's
Magnit retail chain has more than doubled – to 9%. This makes its share of the
index almost the same as the country's gas major Gazprom and is a little
greater than Sberbank, Vedomosti quoted Ilya Pitersky, a strategy analyst at
VTB Capital as saying.

Such a reshuffle within the MSCI Russia 10/40 index could make Magnit
shares the best performing in Russia this year, with a correction likely to come
in 2014, says Sergey Suvorov from the Russian Standard management company.
Magnit shares have added 121% in the last 12 months and skyrocketed more than
20 times since the start of the crisis in 2008. This growth was one of the main
reasons for Magnit receiving more weight in the index.

Magnit's better position in the MSCI Russia 10/40 index is set to
significantly increase the company's capitalization. On Tuesday trade volumes
of Magnit shares in the RTS-MICEX floor were up almost 3.5% to reach $45.1
million, compared to the ordinary daily results of the past month.

Being a part of Russia's emerging retail market, Magnit has great growth
potential. The retailer doubled its profit in 2012, while Gazprom saw its
bottom line fall by 9.5%, says Vyatcheslav Smolyaninov, a chief strategist at
Uralsib Capital.

The MSCI Russia 10/40 index is calculated by Morgan Stanley and embraces 27
Russian companies and covers about 85% of the free float – adjusted market
capitalization. Prior to the revision such Russia's commodity giants as Lukoil
and Gazprom, as well as the country's biggest lender Sberbank were the most
weighted stocks in the index.

The whole MSCI 'family' of indices serves as a guidepost of the Russian
share market for such global funds as JPMorgan Russia, BNP Paribas and L1
Equity Russia.

MSCI membership makes a company's shares easier to trade, thus increasing
its attractiveness to investors.