Russia, Italy seal €1bn investment fund
Published time: 27 Nov, 2013 04:07
Edited time: 29 Nov, 2013 05:57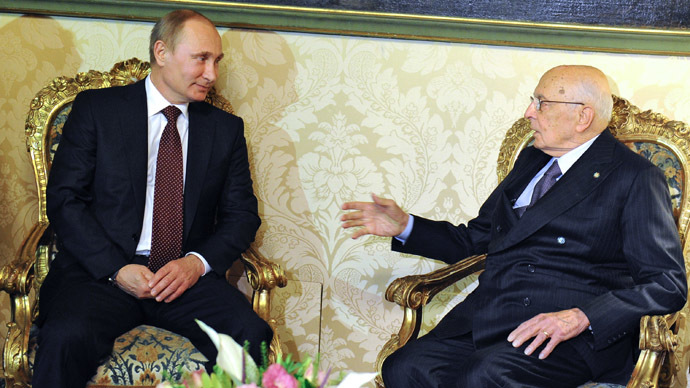 Russia and Italy have agreed to set up a mutual investment fund worth 1 billion euros, aimed at boosting trade and investment between the two countries.
Russia's Direct Investment Fund (RDIF) and Italy's Fondo Strategico Italiano (FSI) have agreed to invest 1 billion euro  (US$ 1.4 billion) in companies and projects in the two countries.
Under the agreement, each of the parties will contribute 500 million euro to the new investment vehicle.
Russia and Italy hope that bilateral trade will reach $50 billion this year, Russian President Vladimir Putin said Tuesday after meeting with Italian Prime Minister Enrico Letta in the northern Italian city of Trieste. 
"Italy is fourth among Russia's largest trade partners," Putin said as cited by the RIA Novosti news agency. "Bilateral trade has been growing. This year, despite problems in the global and European economy, it will grow by another 24 percent. I think it will reach or even exceed the $50 billion mark."

Letta said 28 agreements in the finance, energy and industry sectors have been signed at Tuesday's summit  in Trieste.
The agreements included a landmark deal to ease customs procedures for Italian businesses exporting to Russia and one to establish a branch of Russia's Hermitage Museum in Venice.
"The 1 billion euro will help joint ventures and stimulate growth in our two countries," Letta said at a press conference, while Putin added that economic cooperation had been "at the center of our agenda."
The deal saw signing agreements between Italian energy companies Enel and Eni with Russia's Rosneft as well as Eni with natural gas producer Novatek.
Italian bank Ubi Banca and Russian Transcapital bank are also involved in the bilateral agreement, as well as Italian cable maker Prysmian and Russia's largest electricity transmission and distribution grid company JSC Rossetti.
The deal between RDIF and FSI will provide money for projects from engineering and component manufacturing to aerospace, according to the RDIF Chief Executive Kirill Dmitriev.
"We will focus on technologically advanced sectors, such as machinery, transport and oil processing in both Italy and Russia," Dmitriev told the Wall Street Journal.
On top of increasing investment in both economies, the joint venture aims to "help fight the idea of Russia as a difficult place to invest in," Reuters quotes Dmitriev as saying.
Five hundred Russian companies have attracted Italian investments, while 70 of them involve manufacturing. Italy is Russia's 4th largest trade partner, behind China, Germany and the Netherlands.