Russians are getting wealthier but inequality grows
Published time: 11 Oct, 2012 12:07
Edited time: 11 Oct, 2012 16:17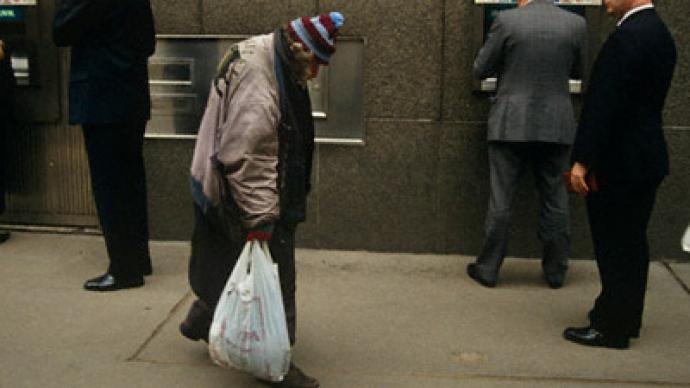 The wealth of Russian households has doubled within a year, while the rest of the world suffered a decline of 5%. It appears the country's super-rich who produced the growth, with wealth inequality in Russia remaining the highest in the world.
The total global household wealth fell by 5.2% to $223trl between mid-2011 and mid-2012, which marks the first annual decline since the financial crisis of 2007–2008, according to the Credit Suisse Wealth Report.
Russia, however, shone amidst the global gloom, with wealth per adult having recovered from the post – crisis lows to reach about $12,000 in 2012.
"While the country's future prospects may be appropriately bearish, the past decade has seen robust growth fuelled by a world hungry for the natural resources that Russia has in abundance," the report explained.
High inequality remains one of the key social issues. While billionaires worldwide normally own 2% of total household wealth, in Russia around 100 billionaires have 30% of all personal assets.
"Excluding small Caribbean nations with resident billionaires, wealth inequality in Russia is the highest in the world. Worldwide there is one billionaire for every $194bln in household wealth; Russia has one billionaire for every $15bln," Credit Suisse added.
Europe was the main loser, as it accounted for $10.9trln of the total global loss of $12.3trln. While households in the entire world, except Africa, had fully recovered from the crisis, Europe and China ended up being the only to drop back to the 2007 level.
"Economic recession in many countries, combined with widespread equity price declines and relatively subdued housing markets, has produced the worst environment for wealth creation since the outbreak of the financial crisis," the paper explained.
A great part of the fall came as a result of a weakening dollar, as "taken together, exchange rate movements reduced US dollar-denominated global wealth by about 6 percent," Credit Suisse explained.
Household wealth is calculated as a sum of financial and non – financial assets of people, where the latter includes mostly housing.Financial assets embrace all kinds of financial instruments varying from normal deposits to more sophisticated insurance schemes.