Russia shines amid gloomy global growth forecast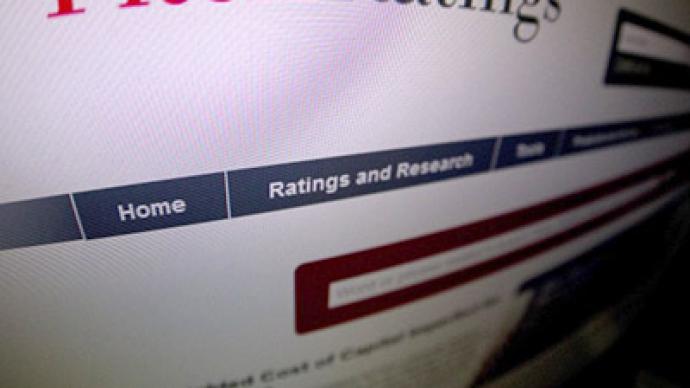 The Fitch rating agency has released another portion of doom and gloom, saying global growth will remain weak – at 1% in 2012. Russia, however, is set to outperform, with its GDP adding 3.5% in 2013 and 2014.
"Notwithstanding a new round of forceful monetary policy stimulus measures in September from the Fed, ECB and BoJ, as well as a rate cut by the People's Bank of China in July, Fitch has revised down its global GDP forecasts for 2012 and 2013 compared with the previous GEO in June 2012," Gergely Kiss, Director in Fitch's Sovereign team said in a statement.
In 2013 and 2014 only a modest acceleration could be expected – of 1.4% and 2% GDP growth respectively.
The Eurozone economy looks even weaker, with its economy set to contract 0.5% in 2012, followed by growth of only 0.3% and 1.4% in 2013 and 2014 respectively. "Business and household sentiment has weakened over recent months, financing conditions remain tight and fiscal austerity measures are biting in the periphery, while core countries' growth momentum is slowing," the rating agency explained.
The world's largest economy – the US – was also downgraded, though not as sharply as the Eurozone. Its GDP growth forecast for 2013 was lowered "moderately to 2.3%, while leaving the 2012 forecast unchanged at 2.2%." Lingering high unemployment that remained above 8% since February 2009, coupled with deceleration of growth in H112 are the biggest issues weighing on growth prospects, Fitch said. "Furthermore, the uncertainty over US fiscal policy may be undermining confidence and acting as a drag on growth," the agency added.
In the document Fitch also tried to assess the economic implications of an excessive US fiscal tightening. The latter could stem from a so-called 'fiscal cliff', "which the agency considers to be the single biggest near term threat to global recovery."
A so – called 'fiscal cliff' refers to the possible slowdown in the US economy at the start of 2013, when the expiry of specific laws comes into effect, which will affect some of the key economic indicators. These laws include tax increases due to the expiry of the Tax Relief, Unemployment Insurance Reauthorization, and Job Creation Act of 2010 and the spending reductions ("sequestrations") under the Budget Control Act of 2011.
Should such a slowdown happen, not only the US economy will be pushed into an unavoidable recession and suffer an overall loss of output close to 3% by 2014, but also halve the rate ofglobal GDP growth to around 1.3% in 2013, the weakest since 2009.
Despite also facing increasing growth challenges, emerging economies look considerably better. Growth in Russia is expected to remain steady – at around 3.5% in 2012 and 2013.
"In China Fitch does not expect an abrupt slowdown and forecasts growth at 7.8% in 2012 and 8.2% in 2013, followed by 7.5% in 2014. The scope for policy response provides a buffer against a "hard landing". In Brazil and India after a cyclical trough in 2012 'economic growth will accelerate in 2013 and reach 4.2% and 7%, respectively," the report said.
Earlier this week another credit rating agency Standard & Poor's slashed its forecasts for the eurozone, warning that the region's economy won't start to grow until at least 2014.