Russia needs to boost small businesses in 2014, Medvedev tells Gaidar Forum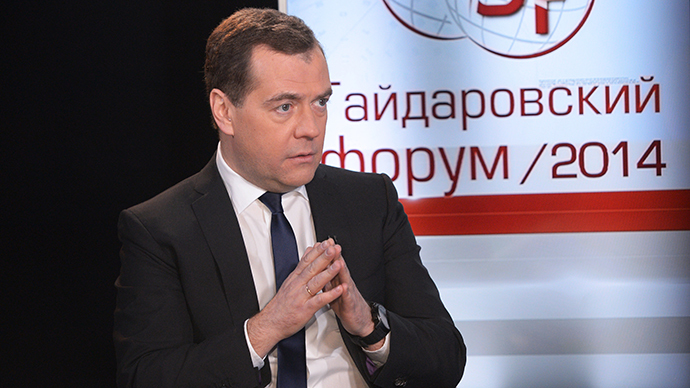 Russian ministers said support for small businesses, coupled with better domestic investment and Central Bank action against inflation would be the key pillars of Russia's economy in 2014, which they hope will grow by 2.5 percent this year.
They were speaking at the annual Gaidar Economic Forum in Moscow, named for the late Egor Gaidar, a former Russian prime minister known for his "shock therapy" liberal economic policies during the transition to a market economy in the early 1990s.
Prime Minister Dmitry Medvedev told investors that Russia, as the world's ninth-largest economy, faces an array of "critical masses" to spur growth this year after a set of disappointing figures in 2013, a year of broken illusions for Russia. GDP added just 1.3 percent, while most analysts expected an average growth of 4 percent.
"Our main task is to change the quality of the Russian business environment, or in other words, make it comfortable and competitive," said Medvedev, Russia's president from 2008 to 2012. Promising entrepreneurship will be rewarded, he added.
"Three basic conditions exist for shaping a real competitive environment," Medvedev said. "These are reducing excessive state intervention, developing an anti-monopoly policy, and support for small and medium-sized business."
Small business a priority
Medvedev said 21.5 billion rubles ($640 million) in government subsidies were doled out in support of small- and medium-sized businesses in 2013, and it will be more in 2014.
Small businesses contributed 20 percent to Russia's GDP in 2013, and Medvedev predicts it will continue to be a force in boosting economic growth in Russia. The goal is to increase the contribution to 50 percent by 2020, to mirror Europe's small business economic model, which is currently at about 50 percent.
On paper the plan is good, but implementation hasn't been stellar. Statistics show four million small businessmen were registered at the beginning of 2013, and by the end, this number had dropped close to 3.5 million.
Nevertheless, the government's approach is much softer than to big state monopolies, which will face big tariffs and spending freezes in the coming years.
Stagflation, ineffective state-owned companies, a dip in oil prices, capital flight, and weak investment all pose direct threats to the Russian economy in 2014.
Economic Development Minister Aleksey Ulyukayev forecast that world growth would not exceed 3.5 percent this year, and at best, Russia will hit 2.5 percent, a trend likely to continue through 2015. The World Bank released a bi-annual report that estimates global growth to reach 3.2 percent in 2014.
Inflation concerns
The priority of Russia's Central Bank in 2014 will be to control inflation.
Elvira Nabiullina took over as head of the Central Bank in June, but hasn't lowered the key interest rate of 5.5 percent because of inflation concerns. Inflation in Russia is estimated at 6.5 percent, which is above the Central Bank's 6 percent rate-lowering threshold.
Russia's top economic officials warned of higher inflation and slow economic growth, or stagflation, in the country. Kseniya Yudayeva, deputy head of the Central Bank, said it was appropriate to address stagflation in Russia, similar to trends in other BRICS countries like India and Brazil.
The inflation surge was "one of the main challenges of the past year and we need to evaluate and base future policies and predictions on its basis," said Yudayeva.
You can share this story on social media: