Russia pivots towards industry, not reliant on oil - Medvedev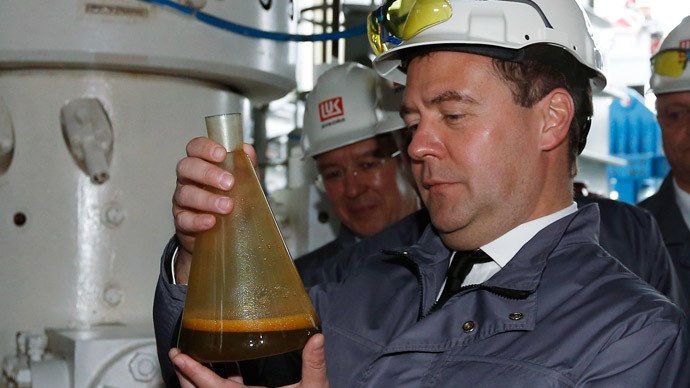 ​There is more to the Russian economy besides oil and mineral exports, Prime Minister Dmitry Medvedev said Tuesday. He also promised productivity will grow 50 percent in the next five years, which followed a severe bout of stagnation in industrial output.
Russia's Prime Minister lauded state plans to boost industrial production, and refutes accusations the economy is running on petrodollars.
"There is a widespread belief that Russia's only strength is oil and gas, that we live off of oil export revenues and produce nothing. Actually, this statement doesn't reflect the real picture of our economy, which is based on manufacturing and where industrial production plays a very important role," Medvedev said on his video blog Tuesday.
Oil prices, which have reached historic highs, are liking to fall as sharp supply increases from the Gulf of Mexico, the US, and South America are slated to send prices down in 2014. Russian oil output, the largest in the world, reached 10.61 million bpd (barrels per day) in November.
January's WTI crude future was $98.54 per barrel and Brent Crude was $110.23 at the time of publication.
Oil and gas revenues account for more than half of Russia's budget revenue, which makes the economy sensitive to price volatility. Russia has amended its budget to prepare for a dip in benchmark oil prices, planning scenarios for crude prices below $80, even $60 per barrel. Russia has signaled it is ready for prices below $95 per barrel.
The IEA says the US will overtake Russia as the biggest oil producer next year, citing the "shale revolution" that has reshaped the global energy market and threatens Russia's budget. Some experts believe this will give Russia the push it needs to develop industry and shake its heavy oil commodity dependence.
The current gulf between consumption and productivity is dangerous, as Russia's future generations can't live off high oil prices in the long-term.
Boosting industry
Medvedev said in the next five years his government will prioritize increasing the number of factories and plants to modernize Russia's innovation potential. By 2020 this should create and modernize 25 million industrial jobs.
Food, meat, milk, canned goods, construction, mining, metals, and auto industry are some of the top "break-through" industries that dominated domestic production in 2013.
In November Russia's industrial production fell for the tenth consecutive month, according to data from Rosstat, the state statistics bureau. Industrial output hasn't grown since the fourth quarter of 2012.
Overall growth has stagnated, but some regions are experiencing robust activity- the southern region of Astrakhan, for example, posted 20 percent growth in the first 10 months of 2013, and Irkutsk - 12.8 percent.
Russian industrial workers faced massive lay-offs as a result of the 2008-2009 financial crisis, which caused the sector to stagnate. Increasing total industrial output can only come from within Russia, and will depend on government incentives for workers. The current minimum wage in Moscow is $385 per month, Interfax reported Tuesday.
State-owned companies have been ordered to purchase more goods and services from small and medium-sized businesses.
"Business, it's always a risk, but the government intends to hold onto investors and those who are ready to build their own business," Medvedev said, stressing the importance of replacing old and inefficient industrial practices.
In the next seven years, the government along with foreign investors will pump money into country-wide infrastructure projects including an overhaul of the Trans-Siberian railway, a high-speed train line connecting Moscow and Kazan, and construction of the ring road on Moscow's city limits.
The spillover of Europe's debt crisis has hit Russia hard, with GDP growth unlikely to exceed 2 percent in 2013.
You can share this story on social media: