Russia prepares budget for oil drop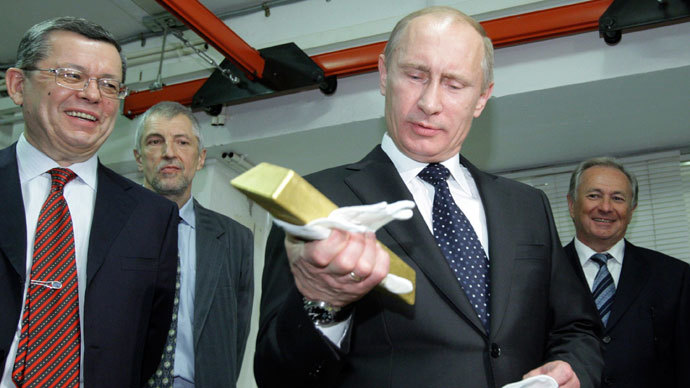 With increasingly volatile oil markets, Russia's Ministry of Finance has come out with a game plan. The Ministry sees oil,the backbone of Russia's economy, falling to $80/bbl from 2016 to 2030, down from two–year peak of $115/bbl.
The overall strategy is based on the assumption oil prices will fall, and the budget will not return to pre-crisis levels, but will meet all state needs, Vedomosti reported after receiving the document pre-publication.

Russia's economy hasn't expanded since the fourth quarter of 2011, and the Kremlin, which has tried its best to deny a forthcoming recession, has amended its budget to get ready for slowed economic activity.

Russia recently lowered its 2013 economic-growth forecast from 2.4 percent down to 1.8 percent, the second amendment this year. In Q2, the economy expanded 1.2 percent.

The most optimistic trajectory assumes a short – term drop in oil to $60 per barrel from 2016, with quick price recovery to follow.

Less favorably, oil will steadily plateau at $80 per barrel.
All of the three scenarios, however, involve a cut in budget spending, as well as lower revenues. If the oil price falls sharply, Russia plans to dip into its Reserve Fund – mainly to finance infrastructure developments.

Russia's Reserve Fund is one part of its Sovereign Wealth Fund, with the National Welfare Fund being the other.  Established in 2004, after oil plummeted below $30 a barrel, it now serves as a safety buffer for falls in crude prices. The Reserve Fund is now estimated at about $85 billion, and the Welfare Fund, which invests internationally, at  $86 billion.

Russia's budget revenues are expected to go down 18 percent - from 37 percent of GDP to a 30 percent share, according to calculations by the Ministry of Finance. The oil and gas revenues are expected to fall to 3.3 percent of GDP from a 8.8 percent share.
Oily budget
Presently, an adequately funded budget is dependent on oil prices above $100.
The country's reliance on oil prices in world markets makes it vulnerable to any price fluctuation, as the 2008 bust/boom dramatic rise and fall demonstrated.

Crude oil prices in the summer of 2008 hit a record high of $147 per barrel, and then by December 2008, the bubble had burst and Brent was trading near $40 a barrel.

Russia receives about half of its budget revenue from oil and natural-gas sales, but the increase of shale gas technology and the rise of the LNG market threatens Russia's dominance in the energy market.

Gazprom, the state-owned gas producer, currently supplies Europe with 25 percent of its gas needs, but this could shift as Poland, England, and other EU countries develop shale extraction at home. Supply from North America also poses a direct threat to Russia's oil monopoly, and subsequently, its budget.

You can share this story on social media: