Getting back on the global grain wagon
Published time: 9 Mar, 2011 14:54
Edited time: 10 Mar, 2011 13:00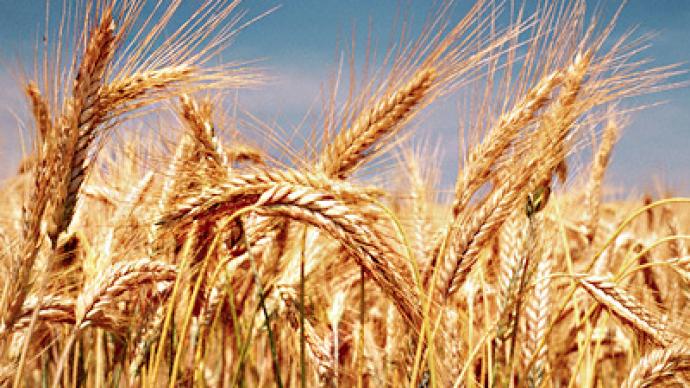 In the wake of Russia's 2010 drought which saw a ban on grain exports Business RT spoke with Alexander Korbut, Vice President of Russia's Grain Union, about the longer term outlook for the industry and strategic issues it needs to address.
RT: In terms of grain production, how much bigger a global player can Russia be?
AK:"Given a global population boost forecast by many international organizations, which will result in significantly higher demand, and the fact that many other countries don´t have much to offer due to water or land issues, Russia looks pretty prospective. Also, a great portion of the land in Russia is currently unused or being used inefficiently, and that´s the real problem, but it means there is a significant productivity gain ahead of us. To illustrate this, about 12.5 million hectares of land in Russia can be brought into production without much effort."
RT: Why Russia's land is being used inefficiently now?
AK:"First, it's a changed economic structure, and there is also another scheme of budget financing. Namely, the system of land tenure is different now, with much land being private property. Also, there are certain problems in the way Russian grain is being sold today. If there weren't these problems and if additional areas were brought into production, Russian could significantly increase grain exports. However, given the current export ban it's really difficult to talk about Russia's attractiveness as an exporter."
RT: Is Russian grain production globally competitive?
AK:"Russia's grain industry is certainly competitive, as all the capacity is there. The fact that Russia today is among 5 world biggest grain exporters is a good indicator. At particular times Egypt bought about 60% of its supply in Russia. And the great global demand of Russia's grain is backed by factors such as quality to price ratio. Russia really wins tenders from France and the USA in a global market, so, the issue of the competitiveness of Russia's grain industry is beyond questions for me. However, infrastructure, with a lack of ports in Russia, is the main problem. The volumes of grain Russia can produce faces a real problem from Russia's relative lack of grain handling capacity, and ports."
RT: What are the implications for Russian consumers of having a better developed grain sector?
AK:"If there's better infrastructure, agriculture producers will certainly be motivated to produce more, and this would lead to more stable prices for consumers . If not much lower prices than at least a much more predictable price environment."
RT: Are international investors/players having a significant impact on Russian grain production?
AK:"They certainly do have and in the first place they bring in new management technology, due to which in last decades Russia managed to produce greater volumes of grain than the whole Soviet Union used to. And of course we don't consider the year 2010, when Russia's grain industry was heavily hit by a drought."
RT: What has the 2010 drought underlined about Russian agriculture?
AK:"It showed that the industry needs to develop technologically. The companies that had better technology performed much better this summer."