Russia second by economic performance among G20 – survey
Published time: 23 Nov, 2012 09:33
Edited time: 23 Nov, 2012 13:33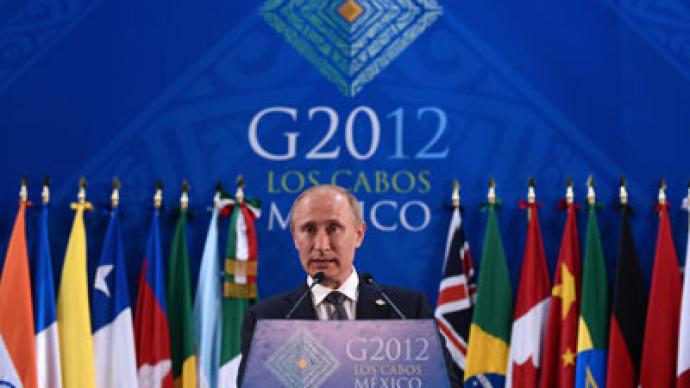 Russia has become number two in economic performance among the Group of 20 leading nations, following Saudi Arabia, a survey provided by Financial Times found out.
­Saudi Arabia topped the ranking, while Russia and China took the second and the third places.

For the first time FT judged economic performance of G20 countries basing their estimate on seven measures: gross domestic product growth, budget deficit and government debt for 2012; economic recovery – output compared with the pre-crisis peak; change in debt since 2009; change in unemployment from 2009 to 2013; and, finally, the deviation of the current account from balance.

Saudi Arabia has one of the lowest levels of state debt accounting for 7.5% of GDP, heavily relying on oil exports. Though, official state debt levels in China are about 20 per cent of gross domestic product, but many experts estimate it at 90% due to high debt burden of regional governments.

Russia's public debt is about 9.6% of the nation's GDP, while its economy enjoys 4% growth in 2012 and finished 2011 with a budget surplus.  The official unemployment level was just above 5% in October this year.
This poll however doesn't take into account G20 finance ministers' political skills or credibility with the global government bond markets.
The FT has also issued a ranking of the European finance ministers' performance for 2012. Germany's Wolfgang Schaeuble topped the survey again, followed by Anders Borg of Sweden and Jacek Rostowski of Poland.
"More than any other finance minister, Mr Schaeuble articulated his vision for a more integrated Europe," the FT cited Erik Nielsen, a member of the seven-member expert panel and chief economist at Italian bank UniCredit.
The worst performing ministers were Hungary's Gyorgy Matolcsy and Luis de Guindos of Spain, who continues to underestimate the depth of the crisis. Third worst was France's Pierre Moscovici