Russians might get back 'lost' Soviet-era deposits, but at a discount
Published time: 10 Jul, 2013 12:14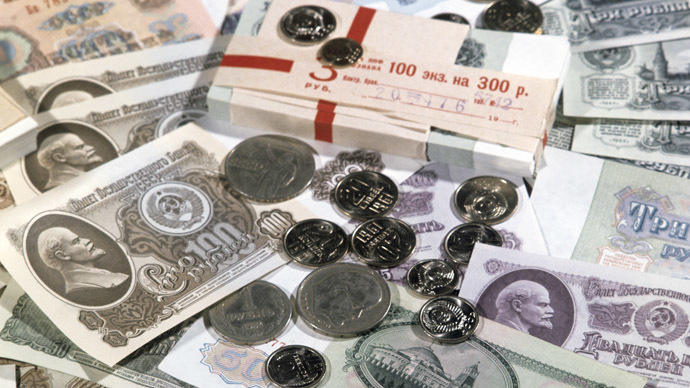 Russia's Finance Ministry wants to give people back savings of 345.5bn Soviet Roubles lost after the break-up of the Soviet system. Under the plan, 4 modern roubles would compensate for a unit of Soviet-era currency, while the coefficient should be 85.
The Ministry of Finance sent a draft law to the Russian government, where it offers the plan to return people their Soviet – era savings by 2021, Kommersant daily reports. Under a 1995 law on recovery and insurance for the deposits of Soviet people, the country undertook to compensate the losses with state securities. Now the country looks at settling its debt with cash.
In the wake of hyperinflation and so-called "shock therapy" reforms of the 90s, Russians' savings in Sberbank, Gosstrakh and state securities of USSR and the Russian Soviet Federated Socialistic Republic (RSFSR) lost their value.
The exchange rate between the 90's Soviet Roubles and the modern ones caused protest from the Ministry of Economic Development, that says the coefficient of 4 is "negligible" and "improvised".  Under the 1995 law, the full compensation would mean payments with the coefficient of 85, as Kommersant refers to the Deputy Head of the Ministry for Economic Development Oleg Fomichev. "Neither in the draft law nor in the explanatory note is there an explanation for such a marginal level of compensation as 4:1, " Minfin said. "There are enough variants between the ratios 85:1 and 4:1," the Ministry added.
The Ministry of Finance in turn insists the full compensation would mean a catastrophe for Russia's finances. An 85:1 coefficient would increase Russia's domestic debt by 29.6 trillion Roubles, which is 6 times higher than currently, and almost 3 times higher than the Federal budget.
Compensations to Russians will be reduced by the amount already paid, as about 465 billion roubles has been repaid since the process started in 1996.