One-year inflation battle: Russia keeps the rate at 8.25%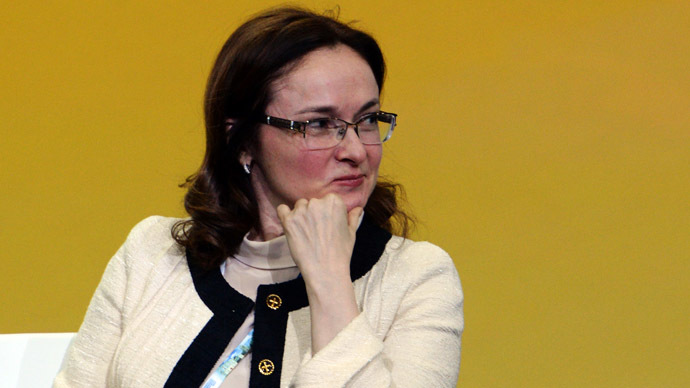 The Central Bank of Russia (CBR) has decided against cutting the official interest rate for the 12th month in a row on inflation fears, which policy makers have prioritized over stimulating growth.
Bank Chief Elivira Nabiullina has publicly stated that she plans to lower the rate once inflation reaches a target level of between 5 and 6 percent. Russia's inflation in August was 6.5 percent, and is expected to return to between 5 and 6 percent in October. 
Government officials have signaled its more important to keep inflation in-check and spur investment at the expense of slowed growth. The bank foresees inflation lowering to 4.5 percent a year from now.

"Considering current trends, if they remain unchanged, then the likelihood of keeping rates on hold is high," Nabiullina said.

The bank left the auction repo rate, which will become its main policy rate starting September 16, at 5.5 percent.
The official CBR statement said, "the decision was based on the assessment of inflationary risks and prospects for economic growth."

The statement warned of weak growth and investment activity, and identified the strongest current consumer activity in real wages and retail lending.

"Low inflation is one of the factors of a favorable investment climate and the central bank's task is to foster low inflation," Nabiullina said in early September, Itar-Tass reported.

The CBR said they beleive the ruble has stabilized at a September 9 meeting. The ruble is currently on a 7-day gain streak, and currently pegged 32.7344 against the US dollar, but could balloon to over 34.5 in the winter, especially if the US begins to taper its bond-buying program, which is expected to hit emerging currencies hard.

On Wednesday the Russian government took a sweeping action against inflation. After a meeting with President Vladimir Putin, Economics Minister Aleksey Ulykayev announced Russia will freeze tariffs on gas, electricity, and railways in 2014 to keep prices from rising. This is the first time a freeze has been issued since 1999.

The move, which many state oil and transport companies are largely against, may help reduce inflation by 40 to 50 basis points, and could boost Russia's economic-growth forecast up to 3 percent, Ulykayev told news agency Interfax. The growth forecast for 2013 is 3 percent, but may be reduced as the bank prepares for more inflation.

Russia is waiting on its rate change, and has plenty to cut, contrary to Europe where rates are approaching zero. The European Commission Bank and the Bank of England both decided to keep rates unchanged at 0.5 percent this month, and will likely keep them at record lows until more sustained growth is recorded.

Russia is far from a 3 percent growth projection, as the economy - highly dependent on oil and gas revenue - slowed to 1.2 percent in the second quarter, according to state statistics office Rosstat. The Russian economy hasn't expanded since Q4 in 2011.

Increasingly volatile oil markets have moved Russia's Ministry of Finance to re-strategize its oil-economy and protect it from any boom/bust fluctuations. Russia plans to use its Sovereign Wealth Fund and National Welfare Fund, which together total more than $170 billion.

Russian academics say the country has entered a technical recession, as its basic industries contracted for six consecutive months.

Nabiullina, formerly an economic adviser to President Putin, took over as Central Bank chairman in June, and has repeatedly stated monetary easing as a goal, but is hesitant on the weak ruble.

Friday was her third meeting as chair.

You can share this story on social media: