Russia hints at 'milk war' after Belarus takes 'potash war' hostage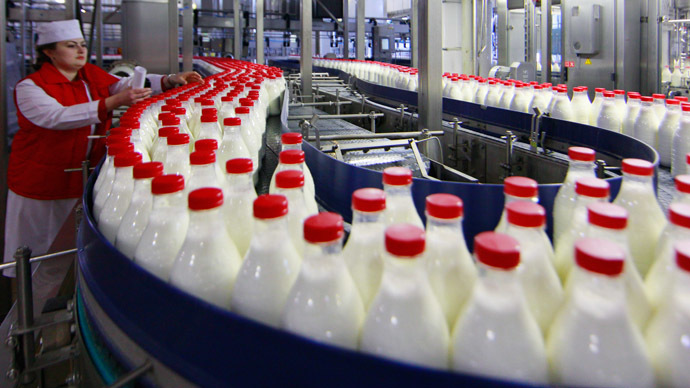 Russia and Belarus could be on the brink of a renewed dairy war after the arrest of the Uralkali CEO in Minsk strained relations between the countries.
Russia's chief health inspector Gennady Onishchenko has raised concern over the quality of Belarusian dairy products. Of 240 samples taken in Moscow, 30 percent were of unsatisfactory quality, Interfax reported.
Russia's public health service is alarmed by the quality of cottage cheese and butter from Belarus.
Onishchenko held meetings with Belarusian counterparts in August,  and is urging them to adhere to current regulations and standards.
"The specific gravity of milk in a large number of samples did not meet the requirements for microbiological, chemical indicators, including the content of antibiotics," the health general said.
A majority of Belarusian milk products end up on Russian shelves. In the first half of 2013, Belarus exported more than $1 billion in dairy products to Russia, about 95 percent of total dairy exports.
Arrest retaliation?
The quality inspection and announcement came two days after Belarusian officials detained the CEO of Uralkali the world's largest potash producer. Vladislav Baumgertner ended a joint venture with a Belarusian trading partner in June.
He was arrested while trying to leave Minsk airport after he was invited to the capital by the Belarusian Prime Minister, and is being held at a Soviet-style detention center.
Dairy products account for 38 percent of all agricultural exports by Belarus, and a Russian ban would be crippling to the industry.
Russia blacklisted 1,300 Belarusian dairy products in 2009, which led to a series of milk-motivated political stunts from President Alexander Lukashenko. He boycott a planned summit of former-Soviet states and then Finance Minister Aleksei Kudrin who was withholding a $500 million loan to Belarus.
First potash, now milk
The Kremlin is furious at the detention of Vladislav Baumgertner, who was lured to the Belarusian capital for a meeting with the Prime Minister, and then detained and arrested when he tried to depart Minsk airport.
Both sides may use the arrest as an economic trade gambit.
"The fact of Baumgertner's detention and the media campaign around it doesn't correspond to the nature of our relations as allies," the Foreign Ministry in Moscow said on Tuesday.
"What happened today is beyond all bounds. We think this is a very strange situation, given the nature of our relationship," Russia's Deputy Prime Minister Igor Shuvalov said.
Russia hasn't responded kindly to the detention, and Prime Minister Dmitry Medvedev has sworn to resolve the matter using all available means.