Belarus potash company finds partner in Qatar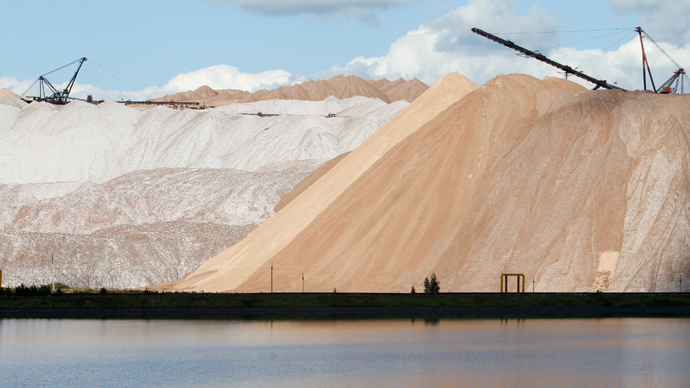 The state-owned Belarusian potash producer Belaruskali has reached a preliminary marketing agreement with Muntajat, Qatar's state-owned fertilizer distributor.
"The framework agreement was signed in Doha on Monday," Anatoly Makhlai, the deputy head of the Belarusian company, told Interfax.

Muntajet said it will sell up to 3 million tonnes of Belaruskali fertilizer per year, which will give the chemical company exposure to foreign market.
The deal demonstrates Belaruskali's desire to move forward in its export strategy after the Uralkali-Belaruskali potash duopoly came crashing down on July 30.
Uralkali, the world's largest supplier of potash, independently announced the end of its 8-year trade agreement with a Belarusian potash company, breaking up the world-wide pricing consortium and shaking up the market and distribution of the fertilizer.
The decision to independently sell its potash and increase production spooked investors, as they fear the loss of the pricing consortium will over-saturate the market. Uralkali says the breakup with Belaruskali could cause its prices to drop by at least 25 per cent to below the $300 per tonne mark.
"Belaruskali is in a rush to find a new partner," Vladimir Dorogov, an analyst at Alfa Bank, told Reuters, but added it will be difficult to achieve sale volumes it previously held with Uralkali.
One of the world's largest fertilizer producers, Belaruskali expects to grow its postash exports to 11 million tons by 2013. In 2012, the company produced roughly 8 million tonnes.

"It is logical that in an actual shipments war [the company] will try to distribute as much as it can through other traders," Elena Sadovskaya, an analyst at Rye, Man & Gor Securities, said.

Belaruskali is also in talks with Brazil in developing infrastructure and potash distribution centers in the South American territory.
Uralkali's cooperation with Belaruskali reached "a deadlock" after the government in Minsk canceled the companies' exclusive right to export the country's potash, and Belaruskali made independent deliveries, according to Uralkali's July 30 statement. The joint venture controlled about 40 percent of global potash exports.
You can share this story on social media: