Potash producer Uralkali reported 41% revenue growth after successful merger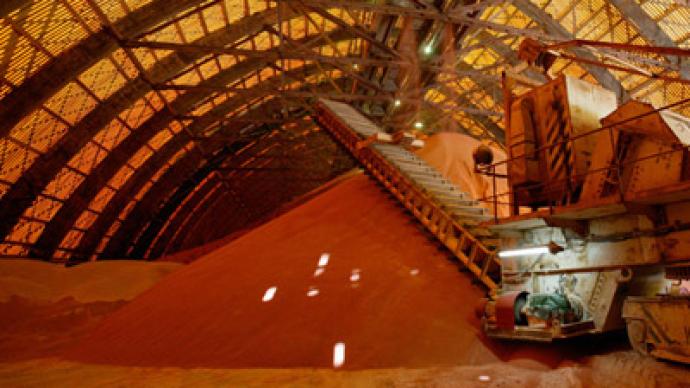 Uralkali, world largest potash producer, reported a 41% growth in revenue in 2011 after merging with another Russia's mineral fertilizer manufacturer Silvinit. Growing global demand for fertilizers and high prices for crops boosted Uralkali's sales.
Revenue reached $3.49 billion in 2011 comparing to $2.9 billion earned by Uralkali and Silvinit in 2010 before the merger. The net profit of Uralkali climbed 64% to $1.185 billion comparing to $929 million profit of Uralkali and Silvinit in 2010. An adjusted EBITDA showed record increase of 75% up to $2.06 billion, supported by growing potash prices and low production costs."Merger with Silvinit and a strong global potash market contributed to Uralkali's record operational and financial results in 2011,"  Vladislav Baumgertner, Uralkali CEO, said in a statement.Production of combined Uralkali grew to 10.83 million tonnes comparing to 10.18 million tonnes in 2010.Net sales increased by 44% in 2011 to $3.6 billion with the average export price at $351 per tonne which was up 38% year-on-year. Potash sales to South East Asia, Brazil and China, demonstrated the strongest growth, accounting for 46% of the combined Uralkali's total sales.Uralkali and Silvinit's total domestic sales for the twelve months grew to 1.87 million tonnes showing a 10% increase compared to 2010. But sales to the EU remained at the same level amid growing concerns about the region's debt crisis."The results of Uralkali in 2011 are in line with expectations. After the merger with Silvinit on 17 May financial results predictably grew," said Pavel Emelyantsev from Investcafe."Meanwhile the company's debt notably grew $2.29 billion in 2011 while including Silvinit's debt"In 2011 Uralkali developed a ten-year expansion program aimed at increasing the company's production capacity to 19 million tonnes of potash by 2021. But in the first quarter of 2012 Uralkali announced a probable reduction in production while keeping higher prices amid falling sales in India.
You can share this story on social media: