Federal Antimonopoly Service approves Uralkali – Silvinit done deal
Published time: 5 Apr, 2011 08:59
Edited time: 5 Apr, 2011 13:28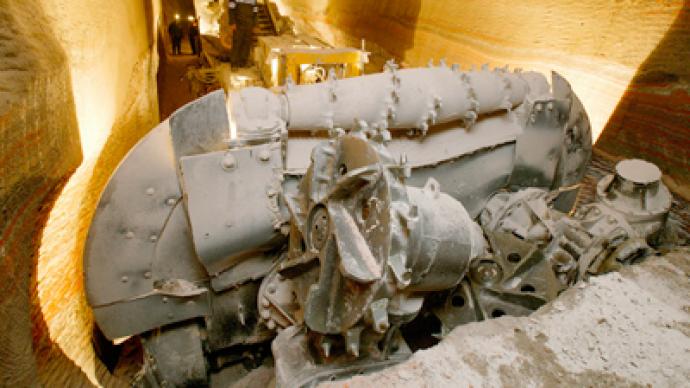 The Russian Federal Antimonopoly Service has approved the proposed merger of Uralkali and Silvinit.
The FAS approval paves the way for creation of a major global potash fertilizer producer.Uralkali CEO, Vladislav Baumgertner hailed the approval, stating it was the most crucial stage of the deal.
"Our success in obtaining the FAS approval for the combination of Uralkali and Silvinit is the most crucial stage of the deal. The FAS approval means that the Service was satisfied with domestic market support package developed by Uralkali. Uralkali is committed to the progress of the domestic MOP market. The goal of the package is to meet the domestic customer demand and support national agriculture."
Head of the FAS, Igor Artemyev, stated that should the company be found to be abusing its market position then heavy sanctions would apply.
"In case the Company abuses its dominant position in the Russian market, it´ll face a current penalty duty varying from 1 to 15% of its annual turnover."

The FAS added that taking the decision it also considered the fact that Uralkali and Silvinit export about 85-90% of produced potash, with just remaining 10 – 15% going for domestic consumption. The body also expected the move to boost the competitiveness of Russian producers on the global market.
Uralkali stated it was keen to ensure compliance with FAS conditions on market pricing and treatment of customers.
"In particular, one of the FAS of Russia's conditions is that Uralkali work out and confirm a marketing policy in regards to potassium chloridesalesto various types of Russian consumer (including agricultural producers, producers of compound fertilizers and industrial consumers), that envisions one means of pricing for each of the consumer groups, and alsoother potassium to Russian consumers."
Troika Dialog analysts Mikhail Stiskin, Irina Lapshina, Zaurbek Zhunisov, andStanislav Ermakov, said that the long anticipated approval should see the merger completed during 1H 2011, with potential legal action from minor shareholder, and rival fertilizer producer, Acron, unlikely to prove a major stumbling block.
"The Federal Antimonopoly Service (FAS) today approved the merger between Uralkali and Silvinit, as we anticipated. As a prerequisite for the endorsement, Uralkali, now becoming an absolute monopoly on the domestic potash market, has adopted a marketing policy to ensure the consistent treatment of various customer groups and a corporate code of conduct. The Russian government set general rules for potash pricing back in 2H10, providing for gradual supply price liberalization to NPK producers, while prices for farmers should remain well below international netbacks.
Overall, we wonder if the FAS approval is just a formality, as there is full support for the transaction among the circles of power in Russia. We do not anticipate any hurdles coming from the legal actions taken by Acron and believe the deal should be completed around May 2011."