Customs Union still has wrinkles to be smoothed over
Published time: 4 Jul, 2011 11:24
Edited time: 4 Jul, 2011 17:56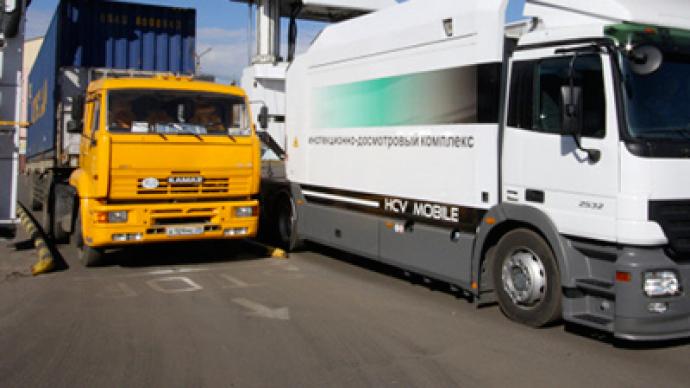 The removal of interior customs inspections as part of the Customs Union of Russia, Belarus and Kazakhstan leaves much harmonisation between the countries still to be done and could make Russian companies turn they eyes to Kazakhstan for better taxes
From July 1 all the trade flows between the three countries will be free, after a common Customs Code came into effect in July 2010. Russia's Federal Customs Service, says that there is no a single common external customs border.
"The functions of the Customs Union concerning goods and transportation, heading to the territory of the Customs Union, will be implemented by the Customs Services of Russia, Belarus and Kazakhstan at the entrance points at the external border of the Customs Union."
However, Andrey Belyaninov, the head of Russia´s Federal Customs Service, said to Rossiiskaya Gazeta, that customs union legislation has still much room for improvement.
"A great part of legal relationship within the Customs Union is still regulated at a national level. There are almost a thousand references to national legislation in the Customs Code of the Customs Union."
The need to harmonise taxation regimes between three countries remains a key issue to be addressed according to Alexandre Osin, chief economist at Finam Management.
"Taxes in the Russia Federation, the Republic of Kazakhstan, the Republic of Belarus will be partially unified to avoid double taxation, but significant differences remain, as the countries are forming a Customs Union, not a budget one."
Alexandre Shtok, director of the Due Diligence department at 2K Audit – Business Consultations/ Morison International, thinks the process will take time.
"We need to understand that objectively the process of unification is long, it'll take years. If we take the process of creation of a single European market, it stretched even for decades."
Robert Krasnov, an analyst at Investcafe, expects that the move will encourage Russian businesses move to Kazakhstan for a better taxation climate.
"Today we can see an epidemic escape of business and production from the Russian territory to Kazakhstan, as the a VAT rate in Russia is at 18%, and in Kazakhstan at 12%, a personal income tax is at 13% versus 10%, the income tax is at 20% versus 15%, which makes Astana a very prospective place to develop business and shift production capacities, especially those of foreign investors."
Osin agrees saying that
"the process is already under way, for example with technological companies."
Russia
, Belarus and Kazakhstan have population of about 180 million people and concentrate about 83% of the economic potential of the former Soviet Union.
This means their joint economy can significantly grow due to the new regime, with their aggregate GDP being at about $2 trillion in 2010 and trade turnover – at $900 billion.