Rusal announces cuts in production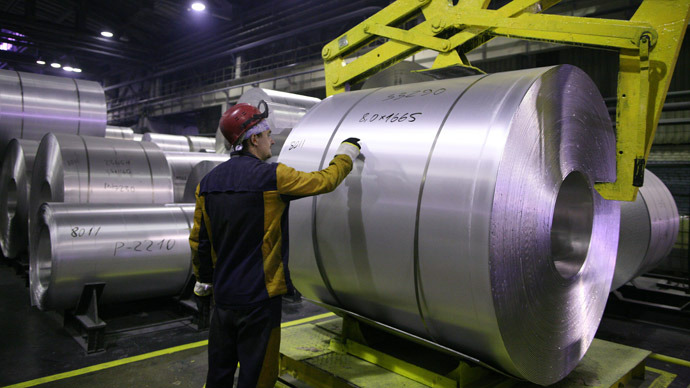 The world's largest aluminum company, Rusal, has announced a 300,000 tonne cut in production in 2013 after suffering financial losses last year.
The company says it is due to an unfavorable situation in the global aluminum market as well as the increase in ore prices and freight rates.

Rusal published its 2012 IFRS results on Monday, which show a loss of $55 million in comparison to a profit $237 million in 2011. Revenue was down 11.4% at $10.9 billion.

"The last year became a challenge for the entire aluminum industry," Oleg Deripaska, Rusal's CEO and primary shareholder, is quoted as saying by Kommerstant newspaper. "Despite the 6 per cent growth in global aluminum consumption, which amounted 47.4 million tonnes last year, the pessimistic mood on the market resulted in a 15.7 per cent decrease of metal prices at the LME (London Metal Exchange). As a result, this put the profitability of a significant share of the global aluminum production into question."

A 4.6% growth in aluminum and alloy sales to 4.2 million tonnes wasn't enough to counter the 14% cut in prices to $2,200 per tonne.

The adjusted company's EBITDA (Earnings Before Interest, Taxes, Depreciation, and Amortization) is $915 million, which is 63.6% lower than 2011. That's still higher than the forecasts of $850 million by the analysts of Moscow based Prime business news agency.

In order to avoid more losses, Rusal's board has approved getting rid of inefficient plant, and reducing production by 300,000 tonnes. This means getting rid of 275,000 tonnes of capacity at the Nadvoitsky, Bogoslovsky, Volkhovsky and Novokuznetsky plants will be speeded up.

The company stressed that the decision would only be implemented after the approval of the government, adding that the reduction "won't affect the social conditions and living standards in the [Russian]regions" as the subsidies provided by the company as part of the federal program to support the industry towns, will see all redundant workers re-employed.

Workers in the industry towns object to Rusal's plans, with the workers at the Bogoslovsky plant beginning a hunger strike on March 1.

Interfax-Ural reports that they demand some production is preserved at the facility and accuse Rusal of violating an agreement, according to which the processors can only be shut down when they develop a fault.

Rusal says it is acting responsibly, and claims there are local political reasons in the Krasnuturnisk area for the hunger strike.

You can share this story on social media: