Rusal cuts production after huge drop in profits
Published time: 27 Aug, 2012 10:16
Edited time: 27 Aug, 2012 17:43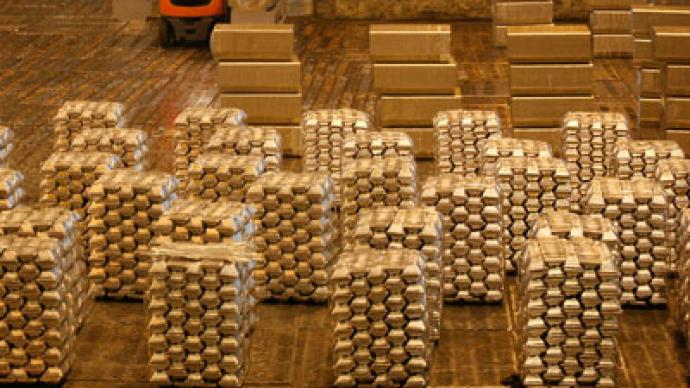 The world's largest aluminum producer Rusal has announced plans to cut production after its net profit tumbled 95.25% in the first six months of the year, due to falling prices and rising costs.
­The Russian company reported net profit for the first half of 2012 of $37 million, comparing to $779 million a year earlier. Revenue fell 9.66% to $5.71 billion. Rusal also reported a net loss of $37 million in the second quarter, which resulted in a 72% drop in quarterly profit.
"The market conditions have warranted the company to introduce a series of cost-cutting measures to sustain its profitability," Rusal's CEO Oleg Deripaska said in a statementю
Rusal said it expects to cut up to 275,000 tons of aluminum production capacity by the end of 2018 to improve efficiency 150,000 of which will be made by the end of 2012. The company plans to replace high cost capacity by new cost-effective smelters in Siberia that are under construction.
"Optimization would boost Rusals's efficiency in the long term and it would positively affect the company's equities," said Anderey Shenk, analyst at Investcafe. "Market conditions are unlikely to change in the second half of the year, so the company's results are expected to be weaker then a year earlier". However, the cut of wasteful production would help decrease spending, he added.
The aluminum price dropped by 5% this year, hitting bottom at $1810 a tonne in June, which is the lowest level over three years. Weaker demand for the metal has also prompted rivals Alcoa Inc and Norsk Hydro to cut capacity.

But Rusal expects the situation in the aluminum market to improve in a long term as there was "clear evidence of a stronger physical demand for aluminium, especially in North America and Asia". Even a 10% increase in aluminum prices could nearly double Rusal's 2013 earnings, according to a research by Standard Chartered.