Russia's metal giant Rusal to 'freeze' unprofitable plants, lay off thousands of workers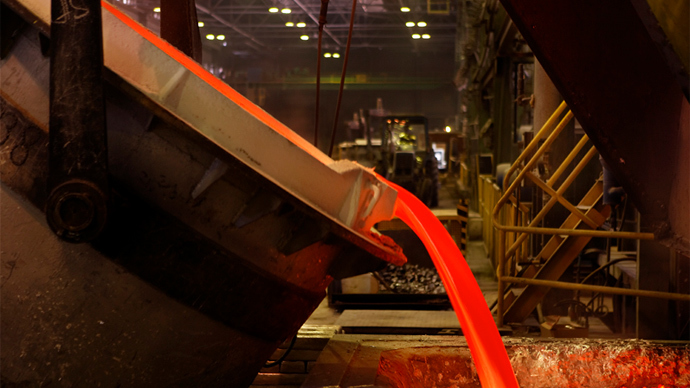 The world's largest aluminum company, Rusal, may shut down its unprofitable aluminum smelter, putting 7,560 workers out of a job. It will completely change the landscape of the small towns where the industry provides a lifeline.
Russian tycoon and Rusal's head Oleg Deripaska said he might temporarily stop production at five of his aluminum plants in Russia by the year end. Rusal employs about 72,000 workers and operates in 19 countries, and the 'factory freeze' could put thousands out of a job.
The talk is of closure of Rusal's works in Russia's Urals, Karelia region, as well as Volgograd and the Leningrad regions.
Falling aluminum prices is one of the key reasons for the decision, with Deripaska saying the plants won't restart operations until aluminum prices go back to $2,400 per ton'. The aluminum price stood at $1,755 per ton at London Metal Exchange closing.
Among other reasons were Rusal's poor financial performance in recent months, as well as growing electricity and transportation costs. The aluminum giant had a $55 million loss for the 2012 fiscal year.

Russia's leading aluminum company has faced a difficult metals market, and the tight squeeze resulted in a 54.3 percent drop in the value of the company in the first half of 2013. 
To provide a buffer to allow prices to recover, the company will reduce output by as much as 8.4 percent, and in turn will temporarily shut down production plants, but keep many of its more 'profitable' plants in Siberia operational.

Many Russian metal and mining companies were kicked out of the Moscow Exchange MSCI index, an elite group of 27 equities. The metal companies, hit hard by sagging prices, could no longer meet the group's market capitalization quotas. 
Other Russian metals companies have faced similar losses. Severstal has lost 33.6 percent of its capitalization, Norilsk Nickel has lost 34.6 percent, and Evraz has dropped 61 percent during the metals pricing lull. 
China, a core consumer in metals, has lowered demand as its manufacturing sector decreases amid the economic recession. Increased gold stockpiles have also devalued aluminum.

Pikalyovo déjà vu?
Three of the troubled Rusal plants are in so-called monocities, which means they used to create and provide jobs for the bulk of the area's population. The company is now in talks with regional and federal authorities over the futures of those who will find themselves out of work, Rusal said. One of the options is to employ staff at other Rusal locations.
It's not the first time that Russia's government has assisted Deripaska with his troubled assets. Back in 2009, Vladimir Putin – who was serving as prime minister at the time - needed to urgently sort out the problems at Pikalyovo's key plants - Metakhim and Pikalyovo Cement. The two factories ceased operations in Pikalyovo – located around 200 kilometers from St Petersburg - because they could no longer transport the necessary raw materials from BaselCement to Pikalyovo. The closures left some 1,500 people unemployed. Another 2,500 people were forced to work a shortened week or take unpaid holiday.
Companies such as Rusal typically use recruitment agencies to assist staff members with finding other jobs. But managing partner at Winner Partners, Grigory Okun, told Kommersant that the number of people set to suffer this time around will simply be too large. He suggested that Rusal will provide either one-time or ongoing welfare benefits for its staff.
You can share this story on social media: