Rostelecom posts 1Q 2011 net profit of 10.6 billion roubles
Published time: 30 Jun, 2011 07:10
Edited time: 30 Jun, 2011 11:45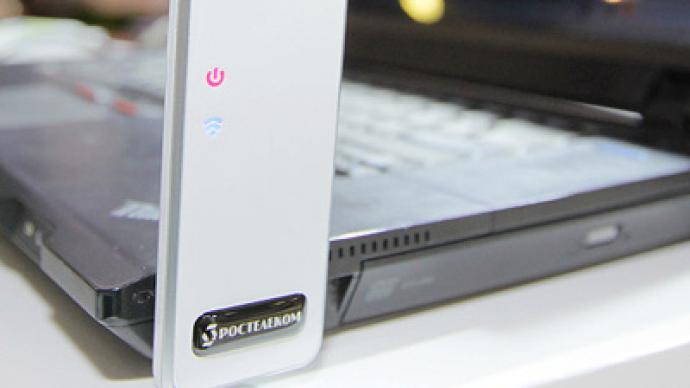 Rostelecom posts 1Q 2011 net profit of 10.6 billion roubles Russian long distance fixed line telecoms provider, Rostelecom, has posted a 1Q 2011 net profit of 10.6 billion roubles under IFRS
The bottom line is up 6% year-on-year from the 1Q 2010 net profit of 10 billion roubles, with 1Q OIBDA down 2% to 27.2 billion roubles, as 1Q Revenues increased 8% to 72.4 billion roubles.
Rostelecom says despite Local Telecom services, its company's core business with 1Q 2011 revenues up 1% to 21.6 billion roubles, the highest growth was demonstrated in such areas as Pay-TV and broadband internet services showing a five-fold and 19% quarter-on-quarter increase in revenues respectively. The company attributed the results to a significant growth in number of subscribers for broadband internet which reached 7.4 billion users.
Alexander Provotorov, president and chief executive officer said the merger of the companies on April 1, 2011 and the approval of the development strategy for 2011-2015, have enabled Group to drive better performance and increase efficiency.
"Our results for the 1Q reflected the performance of the combined company for the first time, despite the fact that the merger was completed on April 1, after the end of the reporting period. The initiatives that we have implemented in order to drive the group's revenue growth, by providing our subscribers with a full spectrum of telecommunication services, have been further strengthened by the successful acquisition of companies like Teleset and Severen Telecom in 2010, and NTK in February 2011. The acquisition of NTK in particular has provided us with access to over 3.1 million Moscow households, and has enhanced our market positions in key cities such as St. Petersburg, Ekaterinburg and Novosibirsk,"