Russia's oil giants bicker over 'fair share' of government payments
Published time: 15 Jul, 2013 14:17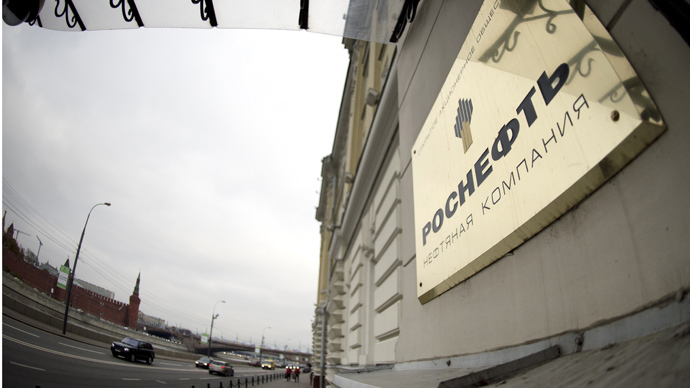 Rosneftegaz, the state-owned parent company of Rosneft, will transfer 95 percent of its profits to the Russian Federal budget.
Rosneft President, Igor Sechin, said he is ready to hand over $2.5 billion (80 billion roubles).

A spokesperson for Deputy Prime Minister Arkady Dvorkovich confirmed he had signed such a directive, Vedomosti reported, citing three federal officials.

The Kremlin is also after dividends from this year's TNK-BP sale, 5.66 percent of shares.  

Last December Rosneftegaz paid about $1.5 billion (50.2 billion roubles) to the Russian Federation for dividends for the first 9 months of 2012, and plans to transfer an additional $918 million (30 billion roubles) for the remaining 3 months, which was confirmed by Dvorkovich's office. The directive was reportedly ordered and signed in May.

In March, Vedomosti reported Sechin requested 60 billion roubles for capitalization and 72 billion roubles for consolidation costs, following Rosneftegaz's acquisition of TNK-BP. This 'interim dividend sum of $4.87 billion provided the funds Rosneftegaz needed to acquire 5.66% of the BP shares in March.

Rosneftegaz shareholders met on June 28th at their annual meeting and decided on the payment of dividends, but have yet to publish an official annual report.

If Rosneftegaz manages to keep the shares from the BP sale, they can sell them off to investors to fund future projects.

The group will reconvene on July 26 to discuss the company's fuel and energy sector development strategy, and President Putin will lead the agenda.

According to the source, last year Rosneftegaz received about $2.54 billion (82.8 billion roubles), and has to pay $2.4 billion (78.7 billion roubles) back to the budget.

Gazprom, Russia's largest natural gas supplier and Rosneftegaz's main state-owned rival, will reportedly contribute $1.7 billion in profits to the state budget, about half the amount of Rosneftegaz.

Sechin, who also serves as the company's chairman, previously suggested the tax on oil companies should be trimmed from 55 percent to 35 percent.

Gazprom head Aleksey Miller, at the company's shareholder meeting, said Gazprom pays more taxes than Rosneftegaz.

"In 2012, the overall amount of tax payments was 1.9 trillion roubles. For reference, Rosneftegaz paid the budget 1.7 trillion roubles, meaning that Gazprom is the biggest taxpayer in the country," Miller said, Interfax reported.

Miller's comment was a response to an April remark made by Sechin that Rosneftegaz pays almost 3 trillion roubles in taxes and that Gazprom only pays half a trillion roubles.