Rosatom to buy Mantra Resources
Published time: 15 Dec, 2010 08:37
Edited time: 15 Dec, 2010 13:58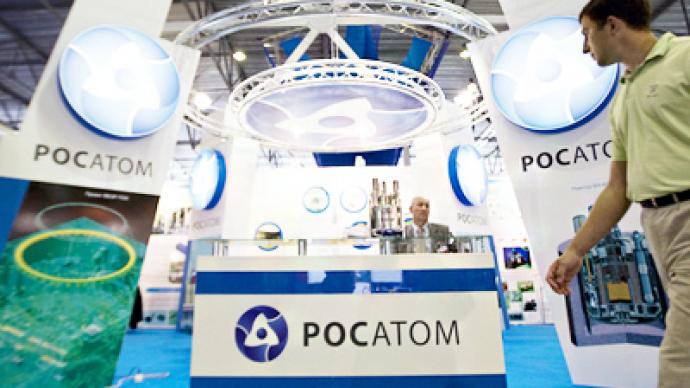 Russian nuclear energy player, Rosatom, has agreed to buy Australian based miner, Mantra Resources, through its ARMZ subsidiary for $1.16 billion, in a move which will increase its access to Mantra's African uranium deposits.
­ARMZ will pay AUD $8 per share which values mantra at AUD $1.16 billion, and represents a 21% premium to Mantra's value weighted average share price over the preceding 30 days, and a 5% premium to Mantra's final share price before trading was halted for announcement of the takeover bid.  The offer is subject to gaining Australian regulatory approval. 
Mantra's major shareholder, Highland Park, has indicated that it will vote in favour of the Scheme, in the absence of a superior proposal, and Mantra directors have indicated they will recommend the bid, with CEO Peter Breese describing it as compelling.
"This clean, all-cash offer from ARMZ is compelling and reflects both the strategic significance of this asset as well as the current status of the project against the backdrop of a recent spike in the uranium price. The offer crystallises immediate value for Mantra shareholders, providing them with the certainty of cash. We have taken advice from our financial and legal advisers and concluded that this offer is in the best interests of Mantra's shareholders. Therefore, the Board and management, along with our strategic shareholder Highland Park, recommends this offer to Mantra shareholders, subject to confirmation by an Independent Expert's Report."
The move on Mantra will give Rosatom the Mkuju River project in Tanzania.  Mantra has commenced a feasibility study of the project which has an estimated 101.4 million pounds of uranium-oxide concentrate. ARMZ's director general, Vadim Zhivov, said in a statement the move would complement its existing assets.
"Mantra's flagship asset, the Mkuju River Project, is a world class deposit. Our offer for Mantrademonstrates this by providing Mantra shareholders with the opportunity to realise a cashconsideration at a premium value. We believe Mantra will complement our portfolio of assets andis consistent with our stated strategy of acquiring low cost, long life, geographically diverse assets." 
The Mantra buyout comes in the wake of plans announced by Rosatom in May to pump $1 billion into developing Uranium deposits in Namibia, and its June acquisition of a controlling stake in Canadian Uranium miner Uranium One for $610 million.