RBS chief wants 'to run best not biggest bank', plans to cut 30,000 jobs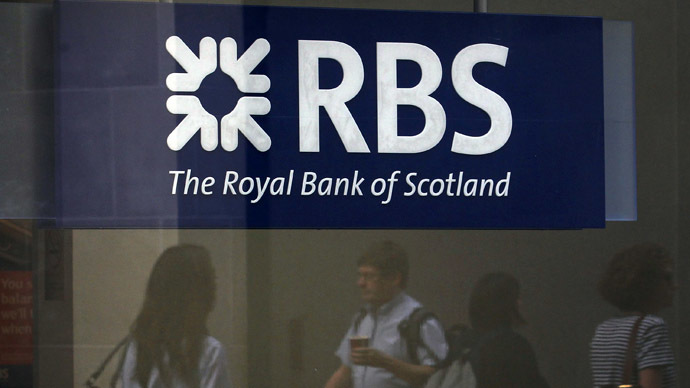 ​The Royal Bank of Scotland (RBS) is expected to axe at least 30,000 jobs, mostly by offloading parts of its international business, and withdrawing from risky investment banking. The cost-cutting measures come as part of a massive restructuring plan.
RBS is 81 percent owned by the UK government, and has already cut 40,000 jobs since it was bailed out by in 2008. The Bank has 120,000 staff and is expected to refocus on three key groups: retail customers, small businesses, and larger corporations, the Financial Times (FT) reports.
The announcement of the 30,000 staff cut is expected early next week.
The restructuring comes after the new chief executive Ross McEwan came in aiming to decrease the RBS group headcount by a quarter over the next 3-5 years.
"My aspiration is not to run the world's biggest bank. My aspiration is to run the best bank in the UK – nothing to do with size. A lot of our costs are old costs related to a big global group that we are not anymore," the chief executive said.
While retreating from the US and Asian markets RBS will perform a spring clean in its two subsidiaries Nat West and Ulster Bank, cutting 11,000 jobs from the investment division.
Williams and Glyn's bank will be separated from the RBS group next year, freeing another 4,500 from the headcount.
The fate of American based subsidiary Citizens Bank is more drastic, as RBS will sell its complete retail operation with 18,500 employees. The deal will stimulate its battered capital position, which now is one of the poorest in Europe.
RBS's Tier 1 capital ratio, one of the main financial strength indicators, fell to between 8.1 and 8.4 percent at the end of 2013. The reduction induced pressure from City regulator to strengthen its balance sheet and affected Moody's rating who issued a warning about a feasible downgrade of its credit position.
The bank has already reported a significant loss for 2013, with analysts expecting a pre-tax loss for last year of $11.6 billion (£7bn) - $13.3 billion (£8bn). It comes after $7.5 billion (£4.5bn) of impairments in the fourth quarter 2013 and the bank expects further litigation expenses related to US mortgage securities and mis-selling of payment protection insurance in the UK.
Royal Bank of Scotland was founded in Edinburgh in 1727, and was one of the world's largest banks before the 2008 crisis. In 2012 it ranked 14 in the list of largest banks in the world by assets.
You can share this story on social media: