Lukashenko met Putin but fate of $2bln loan still on table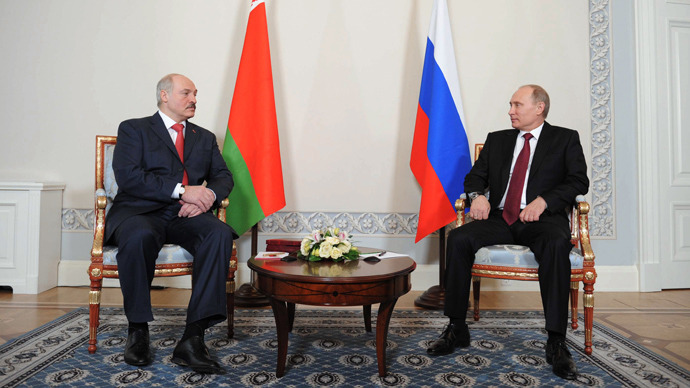 Leaders of Russia and Belarus, Vladimir Putin and Aleksandr Lukashenko met on Friday for talks. The two presidents discussed a wide range of issues, but there has been no official information on whether the two have agreed on a $2bln loan for Minsk.
Officially President Lukashenko came to Saint Petersburg to meet his Russian counterpart for a session of the Supreme State Council of the Union State. The two heads of state have signed a number of documents there, binding the neighboring countries across a broad range of spheres – from joint budget to trade and cultural cooperation. The joint budget of the Union State is estimated at 4.87 billion roubles, or around $160 million with Moscow contributing 65% of it.
"More than 40% of this money will help finance 38 joint projects in high technology, telecommunication, aerospace and pharmaceutical industries," Russian president Vladimir Putin said.
Heads of Union State have also summed up results of trade and economic cooperation, where trade turnover grew by 9.6% and reached its record high $43.8 billion compared to $38.6 billion in 2011 and $27.9 billion in 2010.
Besides that, a number of other intergovernmental agreements have been reached, but there has been no official information on what was rumored to be the initial goal of President Lukashenko's visit to St. Petersburg - Minsk has been negotiating with Moscow a $2 billion loan that it needs to modernize Belarus' economy, or five enterprises, in particular, in which Russian investors have their interest.
Russia invests heavily in the Belorussian economy with Gazprom and Sberbank among the leaders. The total bankroll accounts for $5.74 billion with direct investment making the bigger part of it - $5.2 billion. Russian businessmen are involved in more than two thousand various organizations operating in the neighboring country. Belarus' contribution to the Russian economy stands at around $370 million.
The loan that Lukashenko is asking for is in fact rumored to be designed to save Belarus' national currency from collapsing. Minsk has to massively pay off its lenders in 2013-2014, primarily the International Monetary Fund for the credit it allocated in 2008-2009. But with negative external trade balance there are not too many options on the table – cutting national gold reserves, devaluing national currency or asking for another loan. The IMF has cut all credit programs for Belarus, blaming it for "blindly ignoring" calls for economic reforms, so basically Russia is the only lender left President Lukashenko can turn to for help.
However Minsk can manage on its own if it carries out the privatization of its state property worth $2.5 bln, Russia's Finance Minister Anton Siluanov said Friday, talking to journalists ahead of the session. The minister confirmed the two countries were in talks over allocating the $2 billion loan and only said it was an ongoing process. He noted, however, that the privatization of a number of state companies was an obligatory move for Minsk if it wants to get help from EURASEC Anti-crisis fund.
You can share this story on social media: