'There are signs of a new stage of crisis' - Putin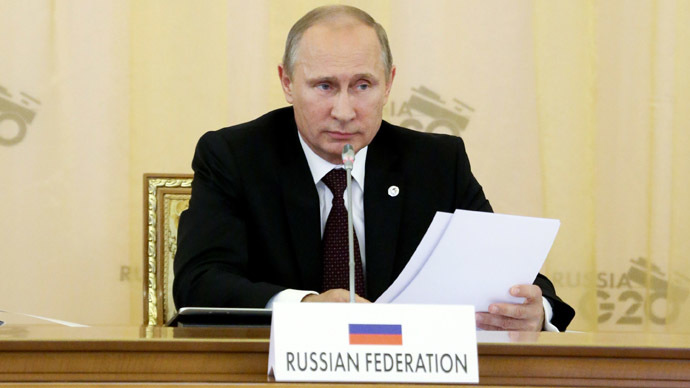 President Putin welcomed world leaders to St. Petersburg, the northern capital of Russia, as this year's G20 chair, but with a somber welcoming message- the world is on the cusp of recovery, but recession risk still looms.
"We would be premature to sit back and relax," Putin told the world leaders, from political sparring partners to economic allies.
"We need to return to re-establishing world economic growth," Putin said.
The International Monetary Fund has repeatedly slashed its 2013 yearly growth outlook, and now global growth is forecast at 3.1 percent.
US and Japanese economies, the world's first and third largest, have provided hope, as both are moving towards sustained economic recovery.
But Putin paused before issuing sober warnings for both economies.
"The US economy is growing, but unfortunately growth rates are lower than what we might have hoped for."
Foremost, the US will need to find a balance between fiscal consolidation and growth stimulus, a decision many except to come this September when the Federal Reserve meets to decide if it will begin tapering the country's $85 billion-per-month bond-buying program.
"Cash handouts cannot go on forever," Putin said, with President Obama looking on.
"The worlds' advanced economies are beginning to exit their current stimulus policies which can bring negative consequences. We need to mitigate those unwanted consequences but first of all, our task is to stimulate economic growth and job creation economic growth and job creation economic growth and job creation."
Japan faces challenges of its own, with record-high debt, the Fukushima clean-up, and an aging population all heavily weighing on its national budget. But the yen, which has weakened by nearly 20 percent against the dollar this year, is helping boost exports.
"For the first time in a long time, we can speak of renewed economic growth in Japan, but we don't know how sustainable that trend will be," Putin said, emphasizing global recovery is dependent on compromise solutions from the world's leading economies.
Emerging markets
Putin applauded the G20 for playing a key role in wrangling the economy back on track, but still pushed for reform of global financial systems.
Coordination among systematic financial institutions will be key, as well as cooperation in implementing new Basel III standards and more strict supervision of derivatives markets.
The IMF also needs to be reformed, Putin said. If the IMF increases the quota for emerging markets, Putin believes the resources base could be expanded by $460 million, and be used to fund more development projects instead of just bankrolling European bailouts.
An IMF quota represents a country's contribution to the fund's capital as well as its clout in the IMF's decision making. It can also decide the size of any loan a country receives from the IMF.

Tax evasion
Putin hailed the St. Petersburg plan as the 'most prominent step to modernize' tax policies in the last 100 years.
Tax evasion will be made a thing of the past, and those that take money offshore and away from where an economies goods and services are produced will be punished, Putin stressed.
"We must not become complicit with tax evasion," said Putin, condemning the unlawful conduct of tax evaders.
"We must prevent processes that lead to outflow of capital," said Putin.
Syria for dinner
Politically loaded headlines may have suggested Syria would cast a dark shadow on the economic summit, but Putin lay that claim to rest in his closing remarks.
"I ask you to wait to speak on burning topics such as Syria until our working dinner tonight, so we don't mix up and bundle economic with political issues."
You can share this story on social media: