Prices to be steady on Russian grocery staples despite production issues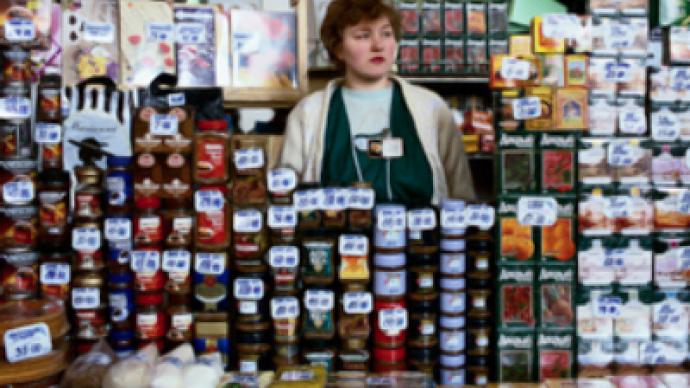 Despite data showing a downturn in land under cultivation, grain production is expected to leave plenty for both domestic consumers and exports, with declining butter imports seeing a consumer product shift.
Recent figures out of Russian agricultural agencies haven't eased concerns about the future of grain prices with Agriculture Minister, Elena Skrynnik, suggesting that drought could see the country up to 11 million tonnes short of grain this year. That comes in addition to data from statistics agency, Rosstat, forecasting a 2009 crop of 85 million tonnes, down from 108 million in 2008, with drought affected land rising from 148 thousand hectares to1.9 million hectares.
However, Ivanova Marina, Director of Research and Information at Russia's grain union, believes the outlook is considerably better and notes that the downturn comes after record crops last year.
"It's important to understand what we are comparing the forecasts with. I mean, last year Russia had record grain harvest, and to call those 11 million tons "a shortage" isn't correct really. In fact, expert estimates differ from the official one, pointing to a 2009 harvest of about 95 million tonnes. Consumption is no more than 80 million, so this is enough to provide for both local and foreign markets."

Those concerned about the implications for their daily loaf of bread can relax according to FC Otkrytie analyst, Irina Yourodskaya, who expects any spikes in the prices of consumer staples to be capped by the Government.
"The bread price is most likely to remain flat, as it's a socially important product, and the Government will try to restrain the price."
Also central to the kitchen are dairy products, with concerns that a sharp reduction in dairy imports could hit prices, particularly butter. Unlike most other dairy products Russia imports about 40% of domestic butter consumption, and with imports down 21%, Tatyana Rybalova, Chief expert from Russia's Institute for the Agricultural market, says Russian consumers are switching to cheaper brands, such as those from Belarus, and that prices aren't expected to rise too far.
"A slight seasonal price rise is likely in Autumn, but it won't hit Russian consumers, as they've already adapted their needs to the changed economic environment. Today they simply enjoy cheaper butter from Belarus and buy more natural products like milk and kefir instead of yoghourts, which is quite typical during a downturn."
Irina Yourodskaya, from FC Otkrytie also adds that the reduction in imports largely accords with a Government policy of import substitution.
"Indeed, the import of milk and meat is down, but this is mainly due to higher import taxes and cut quotas. And this means the Government is there to help agriculture in Russia."

You can share this story on social media: