Portugal: Nothing to write home about one year after bailout
A year after Portugal received a 78 billion euro bailout from the EU and the IMF, the country's economy hasn't deteriorated, but hasn't got back on track either, experts say.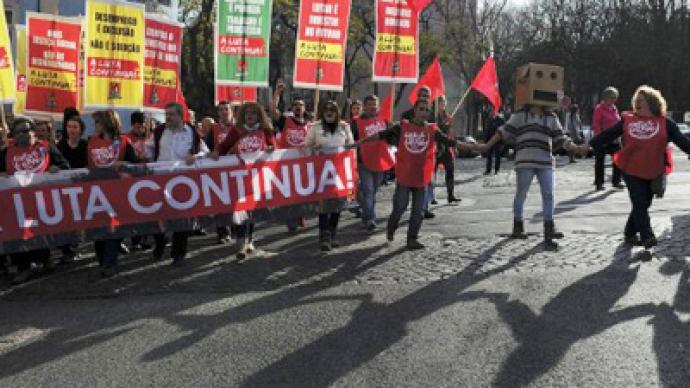 "The package didn't help. Portugal is in recession. Sometimes there is harder recession than expected, sometimes things change a little bit, but the core truth is that austerity means contraction doesn't change," Rui Tavares, Portugese MEP, told RT.According to the latest data, Portugal's GDP fell in Q1 2012 for the sixth quarter in a row, but the 0.1% drop was better than analysts expected. The GDP dropped 2.2% compared to the first quarter of 2011, which was also better than expected results.Meanwhile Portugal's jobless rate rose to 14.9% in the three months through March, compared with 12.4% in the first quarter of 2011, the Lisbon-based National Statistics Institute reported.Also the country faces the challenge of returning to the markets next year as it has to repay some 10 billion euro in debt in September 2013"The state tries to cut debts but most people forget that the biggest problem is private debts, enterprise debts, family debts.And cutting debts on the state level does nothing to help this," Tavares explained.Meanwhile the Portuguese government pointed out it will meet all its bailout requirements such as trimming the budget deficit to 4.2% of GDP this year from 9.8% in 2010, though uncertainty in the eurozone could make this much more difficult.Investors consider Portugal the eurozone's next most vulnerable country after Greece. If Athens fails to fulfill its obligations and drops out of the eurozone, Portugal would be hit hardest.
You can share this story on social media: