Internet sales boom puts Russian Post on the verge of collapse
Published time: 18 Dec, 2012 09:38
Edited time: 18 Dec, 2012 13:38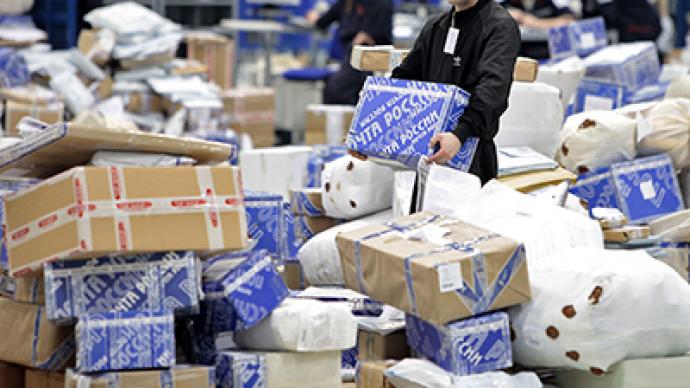 There are going to be thousands of unhappy Russians this holiday season because their presents won't get delivered by Russian Post (Pochta Rossii). The boom in online sales has meant that company can't keep up with the demand.
­Russian Post is blaming the backlog on not enough aircraft to fly the mountain of mail to the far flung corners of the country, according to Pravda.ru.

The growth in internet sales has added to the workload for Pochta Rossii that remains one of the key domestic delivery services. Last year the turnover of goods sold through the internet was estimated at around $10bn, with another 27% growth projected for 2012, says research by Russia's Association for Electronic Communications.

Deliveries in Russia take about 50% longer that to most of other European countries. For example, the orders from one of the biggest internet clothing stores in Britain – Asos – get to a destination in Europe in about 17 days, while to Russia it's normally delivered within 23 days. This is now pushing many on – line shops to set up their own logistic systems in Russia's cities, the research added.
Talking in terms of the amount of post deliveries per a household, Pochta Rossii lags behind Western Europe. In Russia the number is at 30, while in the West it's at least 10 times that, says Lenta.ru.

The average annual workload for Russian Post is 1.5bn letters and 50mn parcels, which still brings it about 40% of its profit. So the company has branched out looking for new revenue streams, selling books and CDs, and also food, cosmetics and sometimes clothing, which adds another 13% to its revenue.
But not every money-making scheme by Russian Post has worked out. Its plans for micro-credit backfired when it was revealed the state organisation had an effective annual interest rate of 2800% on its loans.