Oil and the world economy to top talk at St Petersburg Economic Forum
Published time: 18 Jun, 2012 09:29
Edited time: 18 Jun, 2012 14:21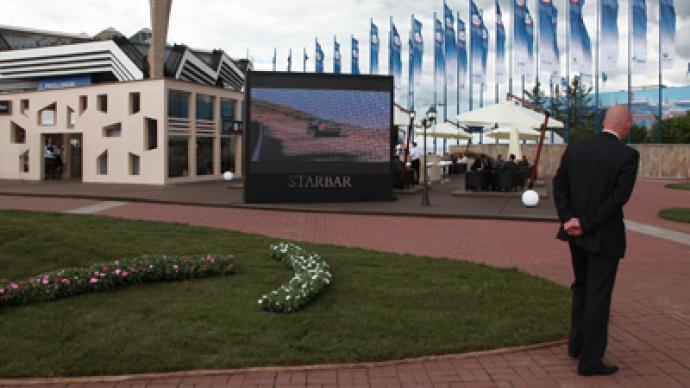 As oil soars on positive views of the Greek vote after two downbeat months, experts wonder how long the rally will last. It's one of the top points up for debate at the 16th meeting of the St. Petersburg International Economic Forum on 21- 23 June.
A traditionally important issue of energy efficiency will get even a louder hearing at a time when the oil markets are being constantly shaken by all sorts of political and economic events. The issue of a fair oil price has long been a point of heated debate, with huge oil exporters, like Russia for example, looking for a higher oil price and Saudi Arabia urging to keep prices below $100/bbl in order to make them sustainable for a global economy.
Experts including Dr. Daniel Yergin, Executive Vice-President of IHS Cambridge Energy Research Associates Inc (CERA), Peter Voser, CEO of Royal Dutch Shell, and Igor Sechin, President of th Rosneft Oil Company as well as Maria van der Hoeven, Executive Director at International Energy Agency and others will be at the forum to discuss the issue.
Besides them thousands of key financial authorities and companies from around the world are going to take their seats at various round tables in a 3 day session in St Petersburg to discuss changes in the global economic landscape and how to deal with it.
Among other issues the forum will focus on are the growing importance of some new emerging economic clubs as the BRICS of Brazil, Russia, India, China and South Africa, as well as the Eurasian Economic Union, that' set to drive closer the economies of Belarus, Russia and Kazakhstan.
Apart from corporate executives, the forum will gather Macedonian Prime Minister Nikola Gruevski, Pakistani President Asif Ali Zardari, the former U.S. Secretary of State Henry Kissinger, Finnish President Sauli Niinisto and Kenyan Prime Minister Raila Amolo Odinga.

A total of 87 countries will take part in the St Petersburg Economic Forum. "At least 5,000 guests will arrive. About 200 representatives of key world companies, including Russian ones, are expected to participate in the forum," Deputy Economic Development Minister Stanislav Voskresensky said.