Market Buzz: Little movement due to lack of drivers, mixed outlook
Published time: 29 Apr, 2013 07:47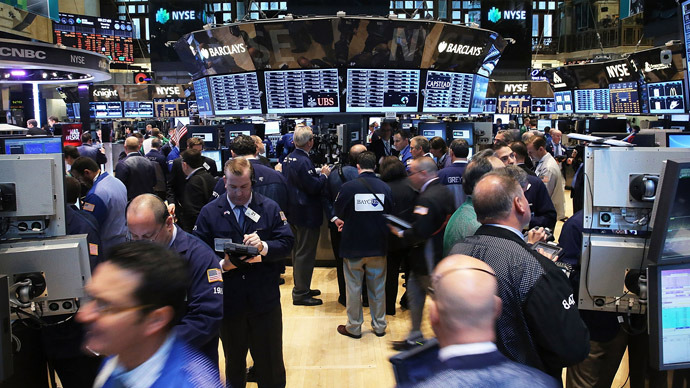 Weak mixed dynamics in Asia as well as a slight decline in oil prices could contribute to a correction on Russian floors as Monday's session opens. A weak Friday performance on Wall Street added to negative sentiments as markets opened.
Russian stocks closed lower on Friday, April 26: The MICEX dropped 0.01 percent to 1372.04 and the RTS fell 0.41 percent to 1382.22.

Investors are looking to the US for an inflation update due later in the day. Italy is also expected to end two months of political deadlock, giving investors hope of returns in Monday's €6 billion debt auction.
Stocks in Europe closed in the red on Friday on slower-than-expected growth in the US. The UK's FTSE 100 ended Friday 0.25 percent lower at 6,426.59, the German DAX 30 lost 0.23 percent to 7,814.76 and France's CAC 40 slipped 0.79 percent to 3,810.05.
Stocks in the US also closed lower Friday as economic data failed to inspire growth. Weaker corporate earnings following a week of gains – and slower-than-expected economic growth at 2.5 percent annualized rate between January and March – contributed to the negative sentiment. The latest consumer sentiment index from Thomson Reuters and University of Michigan was above expectations.
The S&P 500 fell 0.2 percent to close at 1582.24, the Nasdaq lost 0.3 percent to 3279.26 and the Dow Jones Industrial Average was up 0.1 percent to close at 14712.55.
This week, investors are eying a Federal Reserve policy meeting for potential market drivers. The US will release its highly anticipated monthly jobs report this week as well. 
Asian floors traded mixed on Monday, with markets in mainland China and Japan closed for holidays. Australia's S&P/ASX 200 was up 0.4 percent to 5,118.00, and Hong Kong's Hang Seng climbed 0.1 percent to 22,568.15. Stocks in Taiwan, Indonesia and New Zealand also rose, but South Korea's Kospi lost 0.2 percent to 1,941.35.
Oil fell Monday, with Brent trading 0.4 percent lower and WTI down 0.3 percent.