No compromise: Obama refuses to raise debt ceiling for 6 weeks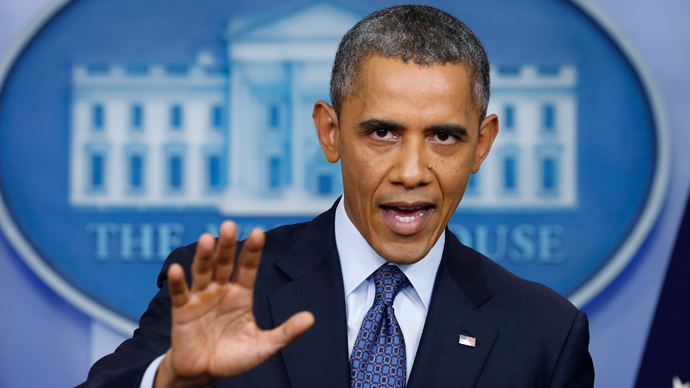 President Obama has rejected raising America's debt ceiling for 6 weeks beyond the October 17 deadline. The compromise was put forward by congressional Republicans, who sought to win time for negotiation and avert an unprecedented US default next week.
WATCH LIVE UPDATES FOR US GOVT SHUTDOWN HERE

No specific budget decision was taken in the White House on Thursday, where President Obama met with 20 House Republicans, including Speaker John Boehner, for 90 minutes of talks. However, a White House spokesman said President Obama "looks forward to continued progress with members on both sides".
Even though Republicans haven't achieved what they wanted, the party representatives described the meeting as "useful and productive".
During the Washington talks Mr. Obama pressed Republicans to reopen the government and increase the possibility that its financing would be restored by early next week if terms for broad budget negotiations could be reached, the New York Times reports.
Republican Speaker John Boehner proposed extending the debt ceiling for another 6 weeks asking President Obama in return to promise to negotiate over his healthcare plan known as Obamacare.
Barak Obama insisted he won't significantly cut Medicare and Medicaid spending, if Republicans don't agree to raise revenues from reduced tax breaks for corporations and wealthy individuals. Mr. Boehner in turn has been reaffirming his party was against tightening taxation, which suggests that future talks could founder.
Earlier the administration said the President was ready to consider the Republicans' offer, but wouldn't allow the GOP to hold the US economy "hostage".
"The good news is that Republicans have accepted the principle that they're not going to attach conditions to the debt ceiling," said Representative Chris Van Hollen of Maryland, the senior Democrat on the House Budget Committee.
The US President's health care programme is a key stumbling block in Washington budget negotiations, which has driven the Government into the first shutdown in 17 years. In case US authorities keep on playing political ping pong and fail to agree on its budget as well as a debt ceiling before the country runs out of cash on October 17, the world's biggest economy could default – the first time in 225 years.