Midnight mayhem: US budget battle sends stocks into plummet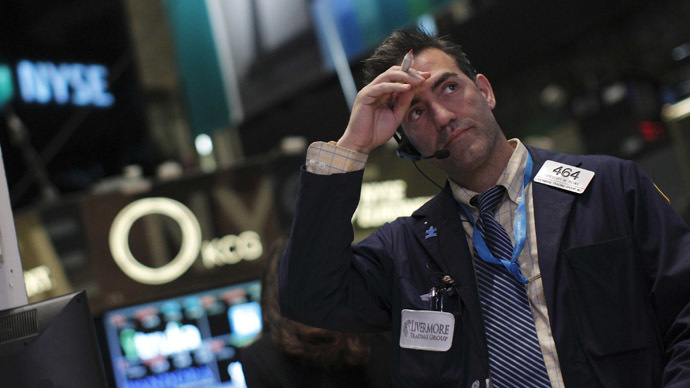 Global stocks have slid just hours before the US government shutdown deadline expires at midnight. Market sentiment has weakened as US lawmakers have still not come to a consensus on their spending bill for the next fiscal year, which starts on Oct 1.
The Dow Jones index fell 1.00 percent, S&P 500 futures lost 0.71 percent and the NASDAQ index retreated 1.01 percent by 10:00am EST. The S&P 500 index, which has gained nearly 20 percent so far this year, has dropped 1.10 percent over the shutdown scare.
Concern over a US government shutdown spooked European and Asian floors. In morning trading, the EURO STOXX 50 and Germany's DAX dropped 1.10 percent, and France's CAC Index fell 1.12 percent.
Asian markets retreated on the fear the US wouldn't resolve its budget debate before the deadline, and all indexes closed down. The Hong Kong Hang Seng was down 1.30 percent, Japan's Nikkei 225 closed 2.06 percent lower.
The market decline marks a major turnaround from last week's robust growth, as investors were welcoming the news that the US chose to stick to their monthly $85 billion injection.  

The key stumbling block on the way to a new spending bill for the US is the debate over President Obama's healthcare program dubbed Obamacare. Republicans have promised to keep fighting to slash funding, which is expected to cost $1.76 trillion between 2012 and 2021, instead of extending the debt-ceiling. 
In remarks made by Obama Monday evening the President struck a defiant note on the healthcare law.
"An important part of the Affordable Care Act takes effect tomorrow, no matter what Congress decides to do today. The Affordable Care Act is moving forward. That funding is already in place. You can't shut it down."
In another pointed remark aimed at Republicans tying Obamacare to the government shutdown the President essentially accused lawmakers of political blackmail.
"You don't get to extract a ransom for doing your job, for doing what you're supposed to be doing anyway, or just because there's a law there that you don't like." 
DC stores already advertising for a shutdown pic.twitter.com/tpKd5Hynaq

— Sam Stein (@samsteinhp) September 30, 2013
The Democrat-controlled Senate has insisted it would not pass a bill that alters the health care law and the White House has said President Obama would veto such a bill.
The Senate meets at 2:00pm EST in Washington DC, just ten hours before the deadline.

The political stand-off could have serious economic consequences for the US and the global economy, as both uneasily straddle the recession line.
"We know it would have a profound destabilizing effect on the entire economy — on the world economy — because America is the bedrock of world investment," President Obama said Friday in a warning to Congress, adding Congress shouldn't 'fool' with the world's reserve currency and foundation for capital markets.

FACT: If House Republicans force a government #shutdown, it could cost our economy $10 billion per week.

— The White House (@WhiteHouse) September 30, 2013
A short-term shutdown could likely be sustained, as long as lawmakers scramble together and clinch a last-minute short-term budget deal.
Ron Paul, a member of the Republican party, is confident the economy won't collapse as a result of a shut down.
"Despite all the hand-wringing heard in DC, a short-term government shut down (which doesn't actually shut down the government) will not cause the country to collapse," he wrote on his blog on Monday.
Moody's expects the US will avoid a shutdown and increase the debt limit, because defaulting would "create a global financial problem" with far greater consequences than a higher spending limit, Moody's said in a report published last Tuesday. 
In the event of a shutdown, 800,000 federal workers won't go to work on Tuesday, but many services will still remain operational- the postal service, police and airport security, border and coast guard will remain on duty, garbage will be collected, and most courts will stay open. Cities will dip into their local budgets to keep essential services operational. 
The US has partially shut down the government 17 times since 1977, ranging from hours to a couple of days.
The government shut down for 21 days from December 1996 to January 1997 under the Clinton administration cost an estimated $2 billion in nominal dollars, according to the US Office Management and Budget.
A government shutdown seems likely, as officials have yet to agree to raise the 'debt ceiling' or reach an alternative budget option after Treasury Secretary Jacob Lew (link) warned the US would run out of money by October 17 and have less than $30 billion cash in hand.
If it drags on longer than a couple of weeks, and pushes closer to the October 17 deadline set by Lew, then the 'what if the US defaults' dialogue will begin.
The US most recently raised the debt ceiling to $16.699 trillion in May 2013, keeping the economy a safe distance from the so-called 'fiscal cliff'.
As of September 26, the US Treasury reported its federal debt at $16,699,396,000,000.00 in their daily treasury statement situating spending about $25 billion shy of the legal limit of $16,699,421,095,673.60.
You can share this story on social media: